Lewis B. Puller, the first afloat forwarding staging base (AFSB) variant of the Mobile Landing Platform (MLP) of the U.S. Navy, has successfully been floated out.
The event took place on November 6 at the General Dynamics National Steel and Shipbuilding Co. (NASSCO) shipyard. The launching dock was slowly flooded with water until the third MLP of the Navy could float for the first time on its own.
The AFSB is designed considering four core capabilities - equipment staging area, berthing, aviation, and command and control. It has been added a flight deck and spaces for berthing, repair, fuel and equipment storage.
Having been optimized, Lewis B. Puller is able to support wide range of maritime operations - from counter piracy and smuggling, maritime security, and mine clearing to disaster relief and humanitarian aid. Military personnel and civilian mariners will rotate as crew members onboard the vessel thus enabling Lewis B. Puller to operate forward almost continuously.
Capt. Henry Stevens, Strategic and Theater Sealift program manager, Program Executive Office, Ships, commented:
"The maturity and stability of the Mobile Landing Platform shipbuilding program has allowed for the smooth transition to the afloat forward staging base variant. Even with the design changes to accommodate the increased capability, this ship is on track to deliver on cost and on schedule."
The sea test and trials of Lewis B. Puller are due to begin next year. The delivery of the vessel is also scheduled for 2015.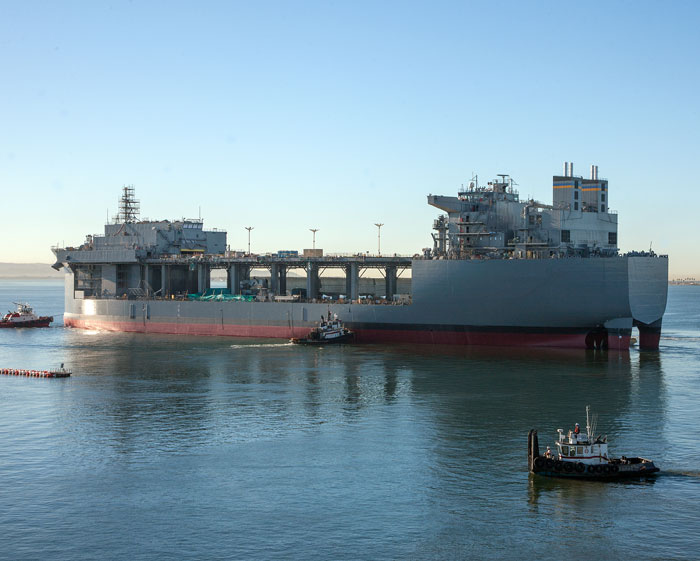 Image: NASSCO
Source: U.S. Navy