Captain Andreas Kristensen and his crew of the Britannia Seaways have received the 2014 IMO Award for Exceptional Bravery at Sea. Captain Kristensen accepted the IMO medal and certificate on behalf of his crew yesterday at a special ceremony held in London.
The Danish were awarded for their exceptional efforts when a fire erupted on their ship, loaded with military equipment, on Nov 16, 2013 while en route along the Norwegian coast.
The 32-member crew of Britannia Seaways manаged to get under control the flames (extending over 30 m) and several explosion in extreme heat. They showed great courage and professionalism preventing major disaster and pollution incident.
Captain Kristensen explained:
"As Captain, I watched the fire from the bridge, while the crew were fighting it on the open deck in high seas, facing an intense situation with extreme heat. Or striving in the engine room to avoid a blackout which could have had fatal consequences for the ship, the persons onboard and the environment. Personally, I am very proud to be Captain of this crew which managed so well under those extreme circumstances."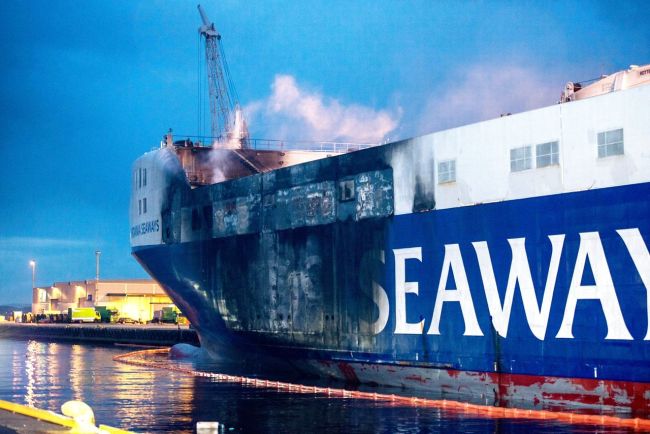 Image: bt.dk
He added that the award should be shared with the passengers and everyone who supported them - the Norwegian rescue teams, fire-fighters and soldiers.
The crew of Britannia Seaways were nominated by Denmark and were chosen among 35 nominations.
During the ceremony, certificates of commendation were given to five professional rescue workers from Argentina and two from the Republic of Korea. Nine more individuals were given letters of commendation. For details, visit the official website of IMO.
Related news:
IMO Bravery Award goes to the crew of Britannia Seaways
Fire extinguished on Britannia Seaways
Fire on the ship BRITANNIA SEAWAYS, 32 crew members in trap