Interoceanic Grand Canal, the $50 billion project of Nicaragua to rival the Panama Canal, starts on December 22. This was announced yesterday by the committee overseeing the project after an approval for the feasibility studies was received.
Having announced the route of the project in July, teams began surveying it. The Nicaragua Canal will be 278-kilometre (172-mile) which makes it longer that the Panama Canal. In addition, it will be wider and deeper.
Lead constructor of the project will be HK Nicaragua Canal Development Investment Co Ltd (HKND Group), based in Hong Kong. Zhu Xiaoya, official with the group, confirmed the construction would start with the planned port on the southern Pacific coast of the country.
"We are going to follow strictly the construction plan for the canal. We are fully prepared to develop our work, controlling the impact on society and the environment," he said at a news conference in Managua.
Groups of environmentalists expressed concern about the canal and its fast-track approval. More than a dozen protest marches have been organized by residents of communities along the route.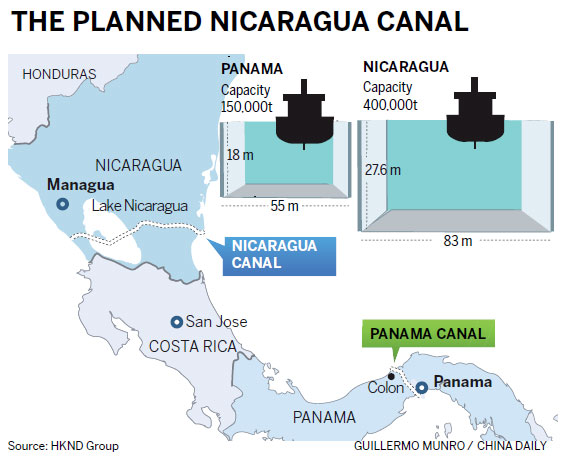 A representative of Centro Humboldt environmental organization, Victor Campos, commented:
"I think it's very premature to say that everything is fine. Theoretically the presentation can say many things, but we have to wait and see."
Concerned about the project are also ecologists. They worry there could be significant damage from damming rivers and moving massive soil amounts.
"We understand (the opposition), but we are sure that the rumors about the project will end as it advances and this century-old dream of Nicaraguans is realized," Zhu Xiaoya said.
According to officials forecast, the construction of the Canal will create at least 50,000 direct jobs.