Each man-overboard situation is life-threatening for both sides – these in the water and those, attempting to rescue them. In every step of the recovery operation, there are particular hazards and the well organized rescue plan is essential for any emergency of this kind.
On 1 July 2014, the International Convention for the Safety of Life at Sea (SOLAS) required each vessel to have "plans and procedures for the recovery of persons from the water", which to be used for minimizing the risks for the rescuers and for the potential casualties. To answer the new requirements - Videotel (KVH company), has developed a new, second edition of their Man Overboard program, which has one goal – to guarantee that each crew member is well prepared for rescuing people from the water.
Mr. Nigel Cleave, chief executive officer in Videotel, stressed the high importance of planning and practicing the man-overboard rescue. He said that the first response in any incident, would be critical and the positive outcome would depend of the actions of every crew member.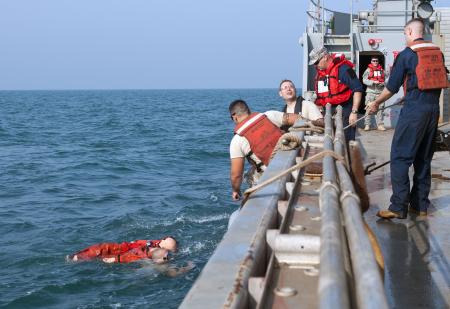 The chief executive in Videotel also said that the best rescue practices had been developed, thanks to the experiences of generations of sailors and the new rescue equipment introduced. The only role the company had was to ensure that the quality expertise and practices would be used when necessary, he added.
The second edition of Man Overboard covers the prevention and planning; the immediate actions necessary when someone ends up in the water; the obligations of the Master and the watch keeper; the steps followed while the causality is being searched; the rescue preparations; the actual rescue of the casualty on the vessel; and caring for the casualty, while recovering the vessel.
The entire training video can be seen through VOD Online, Videotel on Demand, and the e-learning CBT, with an accompanying workbook.