Territory Trader (IMO 8812899), sailing under Indonesian flag, has been banned from entering or using any Australian port for three months by direction, which AMSA (Australian Maritime Safety Authority) has issued.
The direction is due to repeating detentions, long history of machinery and equipment defects, and failure of the multi-purpose ship.
AMSA has detained Territory Trader on three different occasions since July last year, which has arisen the question if the vessel is operated to meet any acceptable standards.
Since Australia signed the International Labor Organization (ILO) and International Maritime Organization (IMO) conventions, AMSA has been taking seriously and respectfully its responsibility of ensuring that the safety compliance of every ship, visiting its ports is according to the international agreements.
According to Mack Kinley, AMSA CEO, the ship was a regular guest of the Cairns port, with the 12 visits she made only this year. He also said that the ship rarely complied with the international safety agreements in Australia and she often passed through the Great Barrier Reef and Torres Strait Area, sensitive environment and protected areas.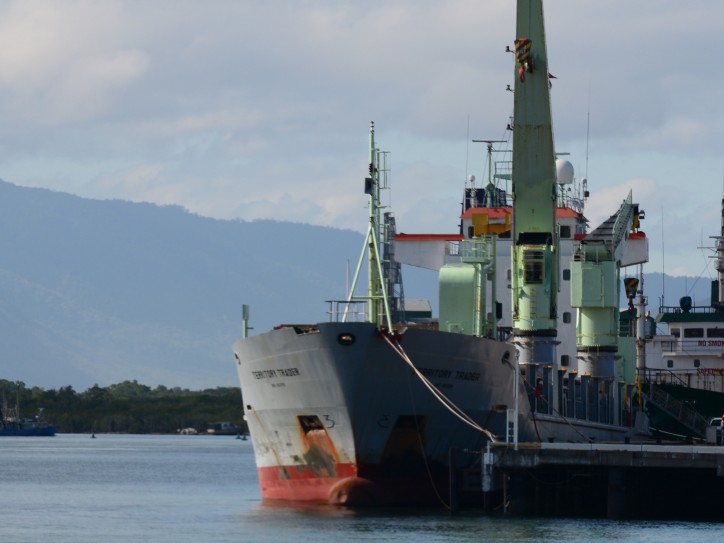 Image: P Bakker
Due to these reasons, the ship had been considered of high risk, which had led to unscheduled inspection of the Port State Control, Kinley also said.
The AMSA direction, made according to the Navigation Act, will expire on 18 February 2015. The ship was obligated to fix any defects and malfunctions identified on the last inspection in Cairns.
Since the updated Navigation Act took effect in 2013, Territory Trader has been vessel number two banned from ports in Australia.