The Port of Long Beach is expecting a Temporary Empty Container Depot to be opened and working in December. It is planned as a vacant pier on Terminal Island to ease the congestion during the holiday season.
Thirty acres on Pier S on Terminal Island have been approved to be used as temporary storage of empty containers by the Long Beach Board of Harbor Commissioners.
According to the Port of Long Beach, this temporary depot will help using more chassis (the wheeled trailer-frames used for haul cargo containers), which are congested because of the current peak in cargo volume. The Temporary Empty Container Depot will provide enough space for the truckers to deliver and remove empty containers from chassis and the chassis will be available for picking up loaded containers and sending them to their destinations.
As the importers are preparing for the holiday shopping season, the US ports have been experiencing increased cargo volumes. A new chassis scheduling system at the Los Angeles and Long Beach port complex has many times left the terminals and truckers without the equipment necessary.
The vacant Pier S site is now being prepared to store the empty containers of the port and will start working in December. Operator of the temporary depot will be a private company - Pasha Stevedoring and Terminal, which, according to plan, should close the site by March 31, 2015.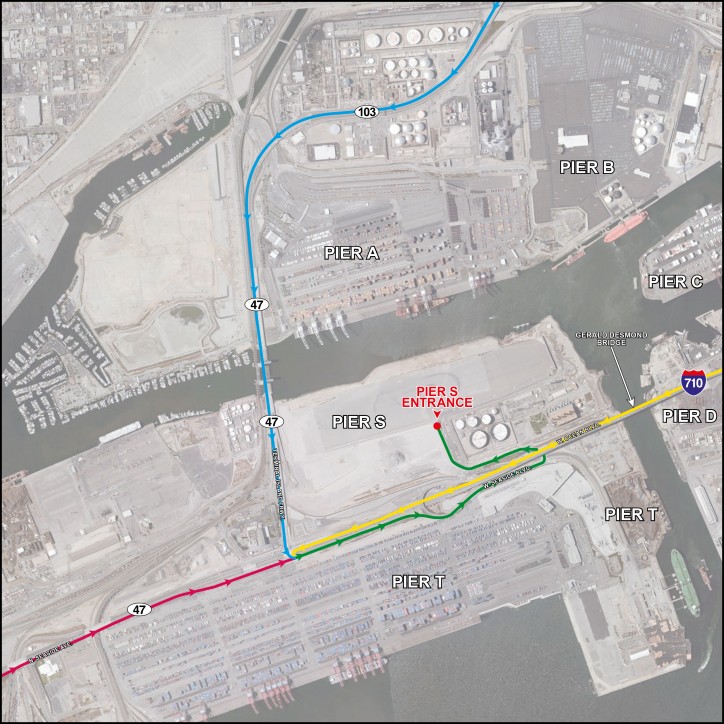 Map: Port of Long Beach
Jon Slangerup, Port of Long Beach CEO said:
"Clearing up the congestion is our top priority at the Port of Long Beach. We are confident that utilizing Pier S as an empty chassis yard will expedite this process and create the opportunity to move and allocate chassis to the terminal operators and truckers."
The congestion arises during the negotiations between the International Longshore and Warehouse Union and the Pacific Maritime Association, which have continued for months, and are still causing slowdown of the port's work process.
As an addition to the temporary depot, the Long Beach Port has outlined plans for operating its own chassis fleet, which will meet the cargo shipping peaks and peak demand. Long Beach also supported the introduction of 3,000 more chassis into the area operated by private chassis fleets.