For the first time since 2009, South Korean shipbuilders have transcended the capacity of their Chinese competitors concerning the delivery record.
According to research analysts, this was due to the fact that the owners of ships had had preference to select shipyards with higher results and more developed technology. Both Hana Daetoo Securities analysts Moonyun Park and Jaeseon Yoo said that the first 10 months of the year revealed that Korea had handed over vessels of a total of 10,027cgt in comparison to China's 9,784 cgt. They further commented that delivery record was the most obvious criterion for a shipyard's ability to accommodate. Although Korean shipyards had just undergone lower gains because of postponements of the delivery, they had focused on selective order meant to maintain higher profits since the end of last year.
Park and Yoo continued that on the other hand, Chinese shipyards had enlarged their goods in size by decreasing vessel price and stressing on vessels' unestablished fuel efficiency effect. As a result, China's delivery volume had not risen up still. The analysts emphasized that delivery record was of more importance than new purchases and it was the clearest standard for the ability of a shipyard. Shipowners put a high value on delivery record and price and time restrictions in the process of choosing a shipyard. Top shipowners had a general trend of dealing with yards with superior yielding of results. The development of vessel technology was accelerating in sharp competition. They ended up that Chinese shipyards' delivery record would be more cut down because technology was missing to provide for the shipowners' acquisition of developed ships.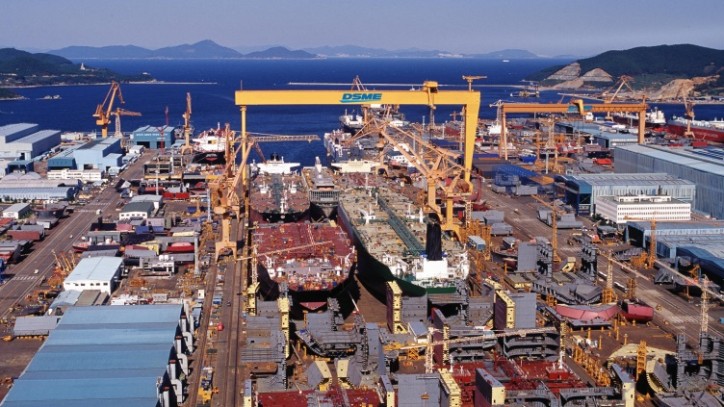 Image: DSME
"Purchase" rating on Hyundai HI, Daewoo Shipbuilding & Marine Engineering (DSME) and Hyundai Mipo Dockyard (HMD) was given by Hana Daetoo Securities. The 12-month objective price was supposed to be at KRW140,000 ($127); KRW 28,000 and KRW110,000 accordingly. They are now exchanging at KRW129,000; KRW20,900; and KRW81,900 each.