The range and the duration of the EU counter-piracy nautical mission off the Somalia shores, will be extended, as the EU counties have decided. The mission of EU Navfor Atalanta will continue until December 12, 2016 with new secondary targets added: coordination and assistance of any other EU initiatives to fight and root the piracy in the area; and observing and reporting any unauthorized fishing activities.
Despite the moment decline of the piracy in Somalia, the danger of hijacking ships still exists. A number of precautions and factors have been the reason many of the latest attacks to be unsuccessful - the international nautical units, which patrol the area; the self-defense trainings for the crews of ships passing through this risky region; and the presence of private guards onboard of the vessels.
However, these initiatives use physical power just to stop the problem for a while, they don't try to inspect the roots of the piracy and to remove them. The weak government, the poverty, the absence of livelihood alternatives and the complete lawlessness are the real reasons for the Somali piracy. Since these causes are still present, the European Community Shipowners' Associations (ECSA) has welcomed the extension of the counter-piracy mission as move in the right direction, which indicates that EU would work to achieve permanent solution of this tricky problem.
The ECSA Secretary General, Patrick Verhoeven commentary was:
"We much appreciate the decision of the Council to prolong the Atalanta mission for another two years. We applaud the move to increase the scope of the mission's mandate in order to assist other EU capacity-building missions in Somalia and the neighboring area."

"Short term gains, while positive, should not take our focus away from the essence of the problem. A long lasting solution to piracy off the coast of Somalia can only be found ashore. We are convinced that Atalanta will successfully fulfill its duties as it has done throughout the years and express our gratitude to the men and women serving under the EU flag to secure this vital maritime trade artery" he said too.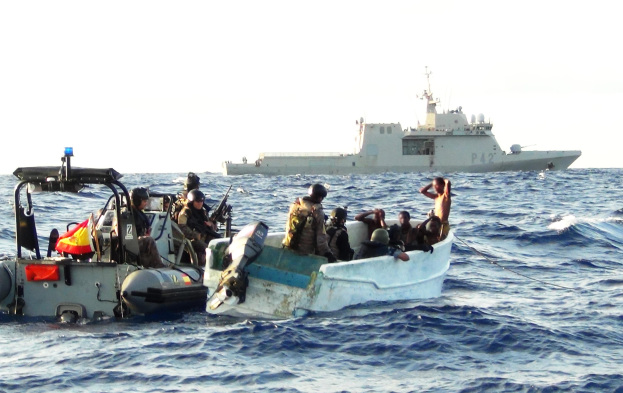 Image: EUNavfor