The keel laying event of Maersk Supply Service's new below-sea-level support vessel at Damen Shipyards Galati has occurred, organized by Maersk Supply Service, DeepOcean UK and Damen. On the 12th of November, a crucial stage was accomplished in the advancement of the new-building project when the official ceremony happened at Damen Shipyards. Preserving the shipbuilding tradition, a ceremonial tablet including 3 coins was fused together to a corridor of the 116 building block. The ritual was visited by the workforce of the shipyard, that was a part of the project together with representatives from Damen, Maersk, DeepOcean and Lloyd's Register, who declared officially the crucial accomplishment.
According to Carsten Plougmann Andersen, CEO of Maersk Supply Services, ship placing was the material proof of the company's improvement of its position in the Sub Sea Support vessel market. The company was also expecting to go on with the good collaboration with the existing counterparts to perform the delivery in February 2016.
In the words of Remko Bouma, Damen Sales Manager, the event is a crucial point that has been achieved on time. It represents Damen's loyalty to the accords. Having in mind the cooperation so far, the company trusts that they will supply the DOC 8500 Cable Layer in time.
The final words of Tony Inglis, DeepOcean UK managing director, include that this next generation vessel, combined with their survey and digging abilities will help the company offer services in huge supply for clients in the offshore and canal markets. The vessel with many uses will be applicable to construction and digging projects using its 7,000 tonne rotating platform and also to distant geographical locations. The vessel is manufactured to respond to the standards wanted by North Sea Oil and Gas clients. The company is happy to be cooperating with both Maersk Supply Services and Damen and the result is the supply of this high potential vessel to the market.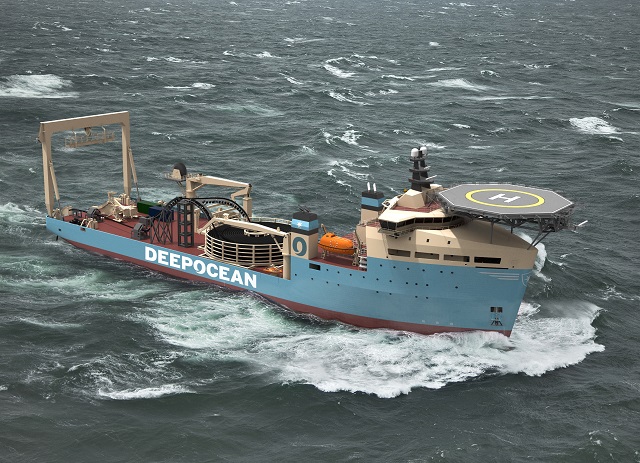 Image: Damen