As previous reports indicated, the enormous $ 40 billion South Stream pipeline project with the help of which Europe would have been supplied with gas from Russia, has now been terminated.
Russia's move of canceling the construction of the offshore pipeline, due to lack of commitment on Bulgaria/EU's side as cited, has had its effect on the suppliers.
Saipem's shares for example have taken a steady dip even though the company claims the project is not dead and will be completed. Now is the time to point out that Saipem has signed multiple contracts worth millions of U.S. dollars for the pipe laying process at the project.
On a side note, this also means that one of the more intriguing vessels in the world this year that is the colossal Pieter Schelte, no longer has its contract to lay the 2nd line of the South Stream offshore pipeline.
According to the contract mentioned above, which was signed in April, the 382 m long and 124 m wide multi-purpose heavy-lift and pipeline installation vessel, would've started laying approximately 900 km of offshore pipe appointed for the completion of the 2nd line of the pipeline, beginning in the summer of 2015 while in the meantime Saipem would take full responsibility regarding Line 1.
Allseas commented the news saying that the loss of the South Stream line 2 contract is very unfortunate and it means that Allseas will have to start looking for new work for the period in question.
In closing, the Pieter Schelte ship set sail towards Rotterdam for the final outfitting after being delivered recently by Daewoo in South Korea. Afterwards the vessel is going to be used for the decommissioning process of several oil platforms located in the North Sea.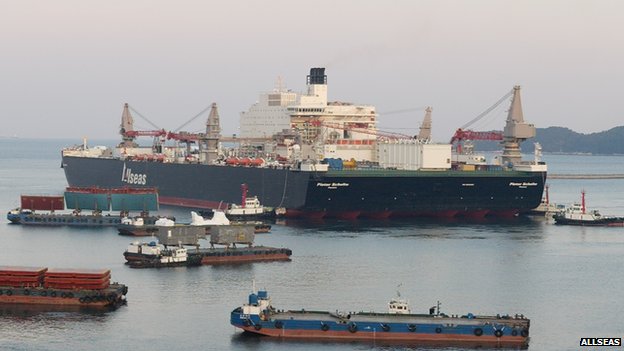 Related news: Pieter Schelte, world's largest crane vessel, en route for Rotterdam