Conrad Shipyard, L.L.C. and The Shearer Group, Inc. (TSGI) have joined forces for the development of a design of a towboat that is powered by Liquefied Natural Gas (LNG), utilizing an already proven design from TSGI. The crew behind the project has already received an "Approval in Principle" (AIP) by the American Bureau of Shipping (ABS) regarding the design of the 4, 200 horsepower LNG towboat.
The towboat's design and conception are based off TSGI's proven azimuth drive (z-drive) towboat model that debuted way back in 2008 with the Frank T. Stegbauer. To this day, 8 such towboats have been produced for the needs of Southern Town Company. The original Southern Towing boat laid down the foundations and managed to integrate the usage of z-drives for brown water operations and has also shown to use a lot less fuel in comparison to conventional towboats, as was recently explained in a study published on TSGI's website.
Also this innovative LNG powered towboat design takes full advantage of Wartsila's proven dual fuel technology. This type of technology as of the moment is the most popular dual fuel technology amongst the domestic U.S. market. Despite the fact that all of Wartsila's existing dual fuel engines are medium speed diesels, it is quite likely that engine developments in the near future will make way to lighter and smaller high speed units. The design of the boat gives the operator the option to determine by himself which engine to use.
Greg Beers, P.E., TSGI's President voiced his opinion that by making this move of combining the two highly popular technologies – z-drives and Wartsila's dual fuel engines and fuel system, the company has crossed out most risks that would naturally arise in the case of first movers when switching to utilizing LNG as a fuel.
The Wartsila's system in question is really a baby brother version of the system that is currently used on the Harvey Gulf Multi Purpose Supply Vessels, which was mentioned above that z-drive towboat designs have been using since 2008.
The economic and environmental benefits that come along with the using of LNG as fuel for high horsepower application is generally acknowledged. The cherry on top of the TSGI design is that it successfully combines these benefits with the already proven ones of utilizing z-drives on a towboat. All these efficiencies make way for owner cost savings that easily exceed 35% of the cost that comes with the usage of a conventional towboat. TSGI and Conrad Shipyard, L.L.C. are of the opinion that the above-mentioned savings will be the turning point in attracting towing companies that share their vision.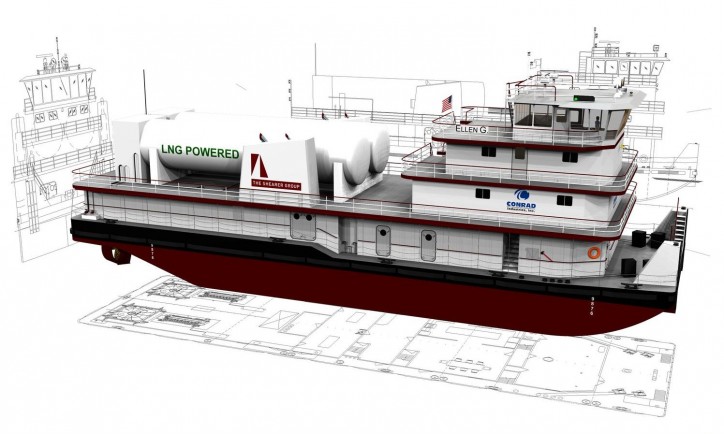 Illustration: The Shearer Group