Seatrials for the first Rolls-Royce S4 series of waterjets have been successfully completed. The jets are specially designed to demonstrate higher efficiency at lower speeds.
The trials that were carried out on board of the recently upgraded Tanglooma Jet, a 350 passenger-carrying high-speed catamaran, showed results of a 3% increase in thrust in comparison to the previously used waterjets.
Passengers are taken by the ferry to and from Tangalooma Wild Dolphin Resort on Moreton Island, which is located at about 75 miles off the coast of Brisbane, Australia.
The S4 next generation waterjet was unveiled at the SMM maritime exhibition that took place in September this year. It is developed specially to comply with the requirements for reduced speed desired by high-speed ferry operators.
Until now, high-speed ferries were constructed for service speeds of 45 knots or more but as a result of the increasing fuel costs operators are now beginning to lean towards using the lower speed optimized waterjets, which demonstrate less fuel consumption all the while improving vessel performance.
Daniel Wikström, Rolls-Royce Product Sales Manager, Kamewa Waterjets, said that the two 63S4 units were integrated on a ferry that previously used their Kamewa 63SII waterjets. The tune-up involved repowering of the drive train, including the engines and the results demonstrated afterwards managed to live up to the expectations.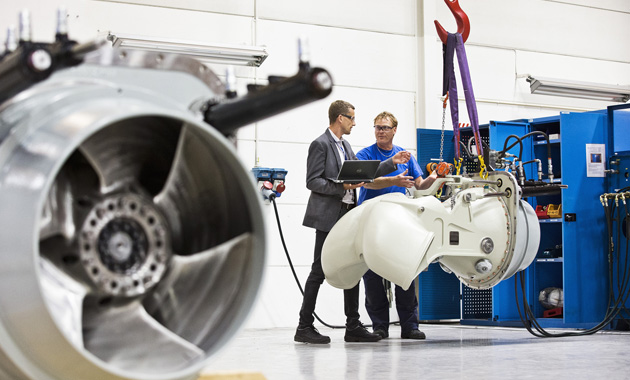 Efficiency has been improved over the whole speed range and thus matches the increase in the requirement regarding vessels operating around 30 knots, a slippery aspect in which waterjet propulsion has been noted to be less efficient. This itself is translated into the reduction of fuel consumption for a certain workload and reduces CO2 emissions all the while increasing the range for the ferry. The increased efficiency is not the sole factor for further environmental benefits, credit must also be given to the inboard hydraulics that reduce the risks of an oil spillage.
Reima Aartojärvi, Rolls-Royce Hydrodynamic Research Center Manager, who was also involved in the seatrials commented that with the 3% increase in thrust and the improvements made in the manoeuvring aspect, the 63S4 waterjets come as a big improvement over the propulsive performance of the previous ones. She also noted that noise and vibration levels were managed to be lowered and thus improved the passenger comfort factor.
The owner is very pleased with the results, which is quite easy to comprehend once you look at the rough estimate of the annual fuel costs which amounts to a mere AUS $ 80, 000.
Two units of the 56S4 series have been ordered for installing on the luxury yacht Magusta 94 and four 71S4 ones for the bigger Mangusta 165. These units are set to be commissioned next year just in time for the summer season.
Source&Image: Rolls-Royce