After a worker suffered an injury in Quebec, Canada's Transportation Safety Board (TSB) made a bit of an unusual move by warning about a possible defect in a popular Chinese-made ship cargo crane.
Although the tests are still ongoing, the Safety Board issued the warning due to their belief that many similar cranes are widely used. The TSB has not been notified about any other such incidents and has no information regarding the vulnerability of other cranes of this type.
"We believe that it was ort responsibility to send out this information as fast as we could and as widely as we could" TSB investigator Francois Dumont told Reuters.
In August, a crane on the bulk carrier Seapace in Becancour, Quebec, collapsed after a slewing ring had been fractured. The cab of the crane was partially crushed and the operator inside suffered severe injuries.
The crane was built by China's Wuhan Marine Machinery Plant Co Ltd, a subsidiary of China Shipbuilding Industry Corp (CSIC), for Japan's Ishikawajima-Harima Heavy Industries Co Ltd, now IHI Corp, one of the country's two biggest state-owned shipbuilding groups.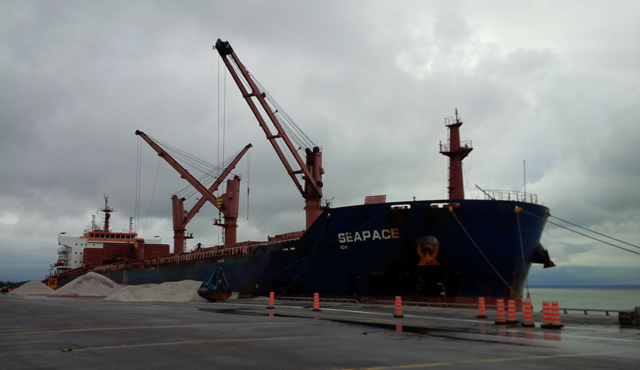 According to Dumont, the Canadian investigation regards the bearing and its main objective is to determine whether or not there was a fabrication defect. The examination process is being conducted at a laboratory in Ottawa. The bearing was constructed by China's Dalian Metallurgical Bearing Co Ltd. IHI, Wuhan Marine Machinery and Dalian were not able to give an immediate comment.
The vessel in quiestion is one of a total of 443 built by China in the time period between 2008 and 2014 and based on a single set of plans, according to Dumont. Every one of them is equipped with four cranes.
Dumont said that investigators think that all of the above-mentioned ships quite possibly have the same bearing and the TSB is cooperating with ship owners and manufactures that have that data.
A Wuhan Marine Machinery representative is among a couple of outside experts that are observing the tests carried out in Ottawa.
In the opinion of Michael Grey, a master mariner and journalist who is a strong advocate for ship safety, collapsing cranes fitted on ships have been a problem for quite some time.
According to him, the low level of maintenance is the main cause to blame while adding that cranes are generally exposed during voyages and are not easily accessed.
On the other hand the Canadian officials in charge of the investigation proces do not believe that is the case regarding the incident in Quebec. According to Dumont, the crane received proper maintenance and regular inspections.
The final TSB report is expected to come out during the first six months of 2015.
Images: TSB Canada