Both Maersk Line and Hamburg Sud are rated as the two most dependable container shipping carriers by the information from a release in the new online version of the Carrier Performance Insight, revealed by Drewry shipping consultancy. Both companies were positioned as the most reliable carriers in the three months to October 2014 with general accomplishment of 80.4% and 78.5% respectively. Cosco at 69.9% was presented as the next best performing carrier and CKYHE Alliance partners, Evergreen, K Line, Hanjin Shipping and Yang Ming followed in that line.
Drewery has gradually produced the new online version of the edition in cooperation with CargoSmart-a supplier of shipment management software solutions. They both have used Automatic Identification System (AIS) information to estimate the timely port arrivals against the timetables of 350 various port pair groups. The service supplies data for standard measuring of carrier performance on port-to-port, trade lane, service and industry-wide grounds. New information is provided every month.
According to Drewry's Carrier Performance Insight containership dependability has bettered gradually during the three month period to October. The total on-time performance for the Asia-Europe, Transpacific and Transatlantic trades has increased to 64% in October compared to 63% in September and 55% in August.
Aggregate Schedule Reliability of Top 20 Container Carriers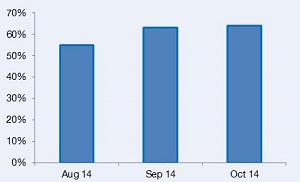 Source: Drewry's Carrier Performance Insight
According to Simon Heaney, senior manager of supply chain research at Drewry, it is a good sign to observe the betterment of reliability however the on-time performance of the industry is still unsatisfactory low. In spite of the continuous monthly betterment, the developing three-month performance (August-October) was decreasing compared with the previous three months, respectively at 60.6% versus 61.1%. The average deflection between the planned day of arrival (ETA) and the actual day of arrival (ATA) stayed at 1.1 day for the same period. During August-October, the Asia-Europe trade was least dependable with 58% of ships arriving on time in comparison to 62% and 77% in the Transpacific and Transatlantic respectively.
For the future, the latest cut in fuel prices could have a positive impact on reliability. According to Heaney, the lower prices would not be directly related to containerships' speed but the carriers would be more eager to increase their speed if they lagged behind planned operations.