Maersk Line, the Danish shipping giant, has made public plans to terminate its present TP5 service effective January 15th, 2015 because of results not carrying benefits. The decision contains temporary removal of direct Taiwan Express to the Pacific Southwest starting at the beginning of January, 2015. According to Maersk Line, this fact does mean a fluctuation of company's obligation to the Transpacific trade.
The last decade showed competitive surroundings concerning Transpacific, with the general trade yielding unprofitable outcome for nine out of the last ten years. Thus, the long-term condition of the trade was put into question. As a consequence, Maersk took a scrutinized view at the economics of the trade with an emphasis on assuring a more secure position.
In addition, Maersk Line considered the continuous descending pressure on economic gains as a risk to the service. The company refused to take a leadership position but depended on Transpacific Stabilization Agreement to point the profitability stimulus to the advantage of all investors. In order to cover their clients from risks, the company would continue to use alternating options as a service to all key routes.
The liner company added that customers using TP5 service, North China and Korea markets would be provided by a new East-West network, starting January. On the 16th of January, 2015 the Japan market would start to be served by a new TP5 product with lowered capacity covering Busan, Yokohama, Los Angeles, and Oakland.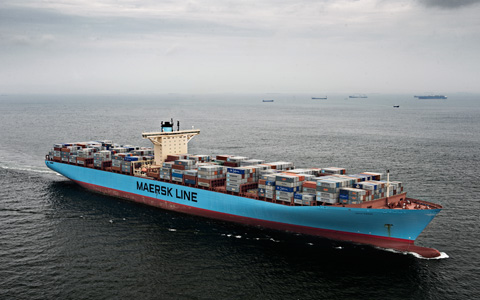 Image: Maersk