It was announced by the CMA CGM Group that the CMA CGM Litani was delivered successfully on December 3rd , 2014 in China.
The 10,622-TEU CMA CGM Litani is the third part of a series of a total of 28 vessels ranging from 9,400 TEUs to 10,900 TEUs, vessels which are planned for delivery during the time span from now to the Q3 of 2016. Vessel number one of the series, CMA CGM Danube, was delivered in June this year. Each vessel that will be produced will receive a unique name after one of the world's famous rivers.
The new eco-friendly ship is the direct result of the co-op between the Chinese shipyards NTS (New Times Shipbuilding, Jiangsu Province, China), CIMC group and the CMA CGM Group experts. Thanks to this collaboration, the ship was delivered on time and it also showed that it is possible to build and fully equip a container vessel of this caliber.
The ship is 300m in length and 48m in width thus providing maximum loading capacity while still managing to meet all of the technical constraints imposed by the Strait of the Bosphorus.
Having a capacity of 1458 reefer plugs 40', the CMA CGM LITANI is an embodiment of the Group's aspiration to be ahead of the pack in this expanding market.
Steaming from the Ocean Three agreements, the ship will be repositioned and operated on one of the most popular and top lines of the Group, the « Bosphorus Express », (BEX). It provides the ability for a direct service between Asia, Turkey and the Black Sea. Naturally, it will call Dalian, Tianjin, Kwangyang, Busan, Shanghai, Ningbo, Chiwan, Beirut, Izmit, Istambul Ambarli, Constanza, Odessa, Ilyichevsk, Istambul Ambarli, Piraeus, Port Kelang, and Dalian again.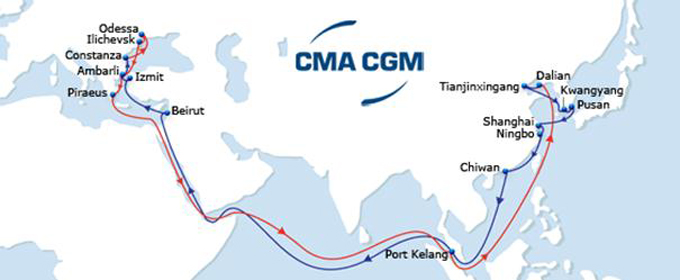 As a part of the sustainable development policy of the Group, the CMA CGM Litani's equipment features all the latest in the environmental technology field which reduces a great deal of its CO2 emissions. To be a little more specific – the vessel has new bulbous bow shapes which improve its hydrodynamics at a speed range of 16 to 18 knots.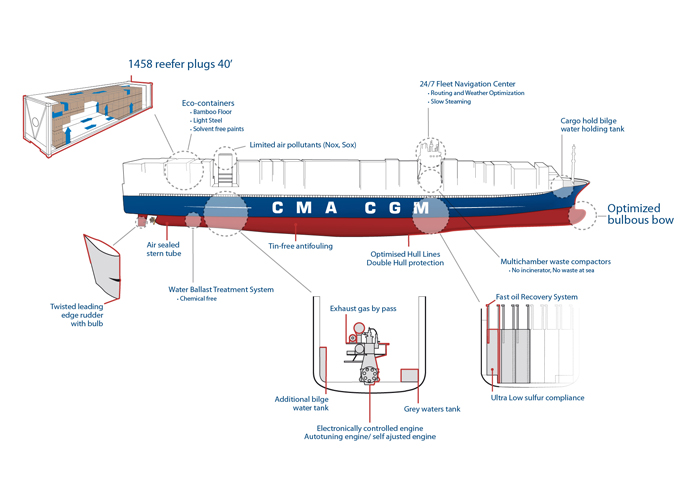 The many technical aspects also feature :
An electronically controlled long stroke engine with an exhaust gas bypass system that offers the best fuel/ efficiency ratio
A twisted leading edge rudder with bulb
A ballast water treatment system
The CMA CGM Litani sailed off the Chinese shipyards on 6th of December.
Source&Images: CMA CGM