It was confirmed by Rogozin, the deputy prime minister in charge of Russia's military-industrial complex, that a major plan regarding Russia's shipbuilding industry is set to be presented by March in 2015. The plan is going to include a list compiled of construction orders for Russian yards until the year 2025.
The decision comes as a direct response to the sanctions that were imposed by the EU and the U.S.A.
During a session in the Marine Collegium this week, Rogozin commented that Russia must handle the situation and respond to the challenge. Hard work and industrial growth are a must.
He also added that government meetings on a weekly basis are going to address coordination aspects between the shipbuilding industry and the Ministry of Economic Development. According to the deputy PM, the Marine Collegium, which is a government coordinating body for maritime issues, will have a significant role in the process.
"The discussion regarding where to construct the necessary ships and marine equipment has been ended. There is only one valid answer : it must be done on our own country's territory, by expanding and developing new yards, creating new competences, gaining new scientific and technical capacity" he said.
Rogozin also added that military as well as civilian technology wouldl be encompassed by the new regulation.
The technology regarding offshore oil exploration and production, a sector that was quite affected by the sanctions, is going to be greatly involved in the shipbuilding nationalization plan.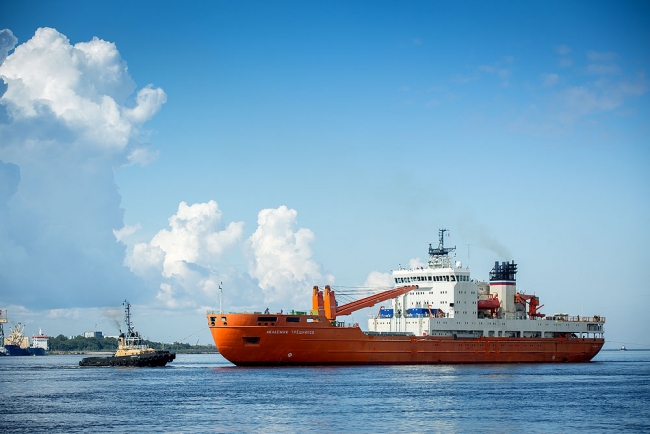 Image of AkademikTreshnikov, built by the Admiralty Yard. Credits: admship.ru
Rogozin is of the opinion that Russia's yards will step up the construction process of civilian vessels as military orders are carried out. Although, he does not give any concrete information on the matter of how to deal with the significant technological gap, as well as the lack of capacity, that seems to be a predominant problem regarding Russian shipbuilders.
Rogozin made his speech mere days after President Putin had addressed the federal assembly this past week. In his speech the president announced that a coordination center is to be established for the carrying out of key industrial projects and for the placing of construction orders in Russian companies.
Source: barentsobserver