As reported on December 11th by naval architect and marine engineering firm A.K. Suda, Metairie, LA, the completion of the Teras Conquest 7, the world's biggest pipe-legged liftboat, is planned to happen before the end of the year. It is the first in a total of three vessels like it that are also in their production stages. The Teras Conquest 7 is property of Teras Offshore, which is a subsidiary of Ezion Holding Ltd., Singapore.
"Liftboats are becoming larger in size and far more sophisticated than they used to be" according to A.K. Suda Ltd. CEO Ajay Suda.

"We are leading the pack, definitely, as we have made the best three largest liftboats that are soon to be in the open sea"
Suda is quick to point out that the liftboats tend to provide a cost effective alternative and have managed to steer up a fair share of interest in the Middle and Far East oil and gas market. According to him the bigger liftboats like the SUDA 450-L3T "can be turned into rigs quite easily and at a significantly lower cost when compared to past designs"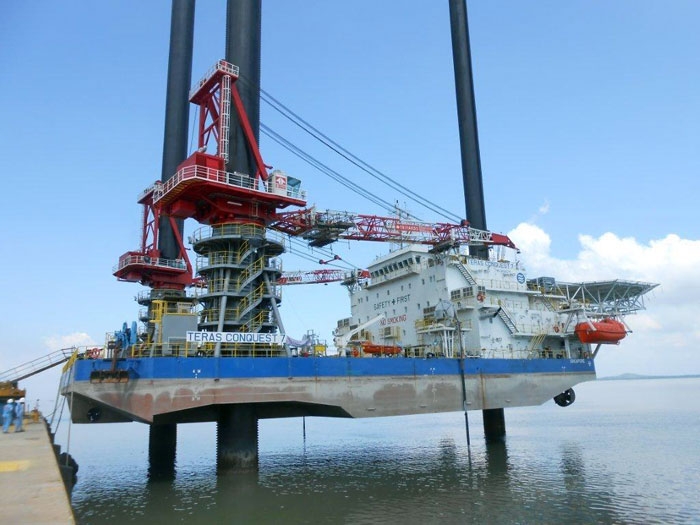 The finishing design touches for the 335 ft pipe-legged liftboat come following the unveiling of the world's biggest liftboat, the SUDA 450-L3T, which was delivered earlier in 2014.
The brand new liftboat is a three-legged, self-propelled, self-elevating general service liftboat designated as the SUDA 335-LP. It is ABS classed with Unrestricted Service, +A1, +AMS, E, DPS 1 Accommodation Service, Wind Farm Installation Maintenance and Repair Certification.
The hull dimensions are as it follows: 194 ft x 131 ft x 16 ft. It is has two cranes with a capacity of lifting 250 tones and can accommodate 160 people, including the crew members.
Other than the SUDA 335-L3P hulls that are being built, more A.K. Suda designs under construction at the moment feature a SUDA 335-L3T (a three-truss version), a SUDA 320-L4T, (a 320 Class four-legged truss design) and a SUDA 300-L4T (a 300 Class four-legged truss design).