According to reports by the Italian Ministry of the Interior, through November 30th 163, 368 migrants at total have been rescued at sea in 2014.
This demonstrates a significant increase of 9, 993 people during the most recent month, which is roughly about one third of the 26, 107 arrivals during September.
Federico Soda, International Organization for Migration (IOM) Italy Chief, said that there were numerous days of bad weather. He also commented that despite the harsh winter conditions at sea, there are still people that take on the risk in hopes of finding a better life in Europe.
During the course of November nearly 3, 000 migrants (one third of the total) of Syrian origin arrived in Italy. Eritreans were just a little above 300 arrivals.
"We have began noticing that as of late Syrians are mostly arriving via bots coming from Turkey, while migrants from Libya are primarily composed by Sub-Saharans. For now we can't surely determine if this is a new trend, but we will investigate further into the matter" Soda said.
According to annual statistics, Syrians account for the biggest contingent of migrants (a notch under 40, 000 since January 1st) and Eritreans for 2nd largest group (a notch above 34, 000).
Bangladeshis arriving in Italy by sea have so far been estimated to be at a total of 4, 386, a serious increase when compared to the 297 ones in 2013. Palestinians are almost six times more now (5, 713 migrants) than they were in 2013 (1, 043 arrivals).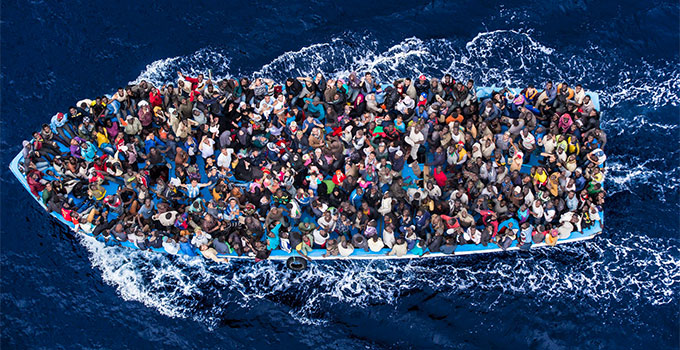 According to IOM's reports for this week, staffers managed to meet and assist a large number of the 391 migrants that arrived on Wednesday (10/12) in Sicilian port in Augusta. Witnesses commented that they were sailing on a large fishing boat which had left from Mersin, Turkey on the 29th of November. The migrants were primarily Syrians and Palestinians.
This was the first instance in which IOM staff met refugees fleeing Kobane, the besieged city that is located in the Kurdish highlands of Syria.
Soda also commented that the prices smugglers are "offering" Syrians for sea crossing seem to be getting higher and higher, but however large groups might receive some sort of discount.
"Prices from Turkey are subjective to change, depending on how big the boat is. If the migrants are more than 500 people, the requested price is USD $ 4, 500 per passenger. If their number is below 500, then the price may jump up to around USD $ 6, 000 each," Soda said.
IOM points out that according to these latest reports, the number of migrant death cases along the sea routes from Africa in 2014 is now 3, 500, with most of them occurring in the Mediterranean - a grave statistic that exceeds roughly six times the total of last year.