The U.S. Navy carried out the last set of necessary testing exercises for the GhostSwimmer unmanned underwater vehicle (UUV) at Joint Expeditionary Base Little Creek-Fort Story (JEBLC-FS) on December 11th.
GhostSwimmer is the latest model out of a bunch of science-fiction-turned reality projects that were designed by the chief of naval operations' Rapid Innovation Cell (CRIC) project, Silent NEMO.
Silent NEMO is actually an experiment tasked with the exploration of the possible uses for biomimetic, unmanned underwater vehicles in the fleet.
During the last couple of weeks, Boston Engineering's brand new device has been busy collecting data at JEBLC-FS regarding tides, varied currents, wakes, and weather conditions for the development of future objectives.
"GhostSwimmer will provide the Navy with a greater level of success on a larger scale of missions all the while keeping divers and seafarers unharmed" commented Michael Rufo, director of Boston Engineering's Advanced Systems Group.
The GhostSwimmer was designed in such a manner so that it could resemble the shape and mimic the swimming of a large fish. The vehicle is approximately 5 feet long and weighs almost 100 pounds thus it is able to operate in water depths that range from 10 inches up to 300 feet.
"It swims the same way a fish does by oscillating its tail fin back and forth. It combines unmanned systems engineering and unique propulsion to go along with control capabilities," Rufo commented.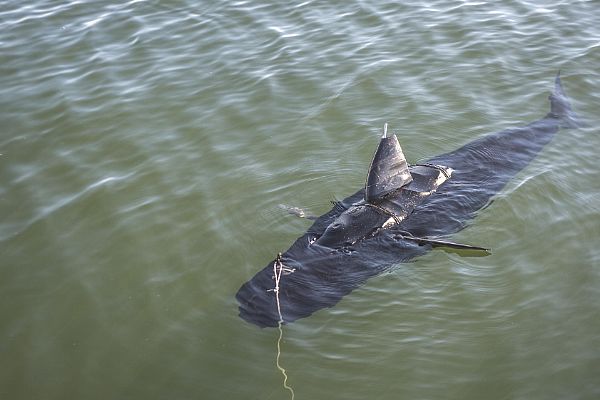 Its bio-mimicry establishes a level of additional security when tasked with low visibility intelligence, surveillance and reconnaissance (ISR) missions as well as friendly hull inspections, all the while demonstrating lower noise levels than a typical craft of this size that uses a propeller.
The vehicle can manage to operate on its own for many hours thanks to its innovative battery design, but it can also be operated with the help of a laptop with a 500-foot tether. The tether is long enough so that it could transmit information all the while checking a ship's hull for instance, but in the case of operating on its own, the vehicle will have to be brought up to the surface every now and then so that it could download the necessary data.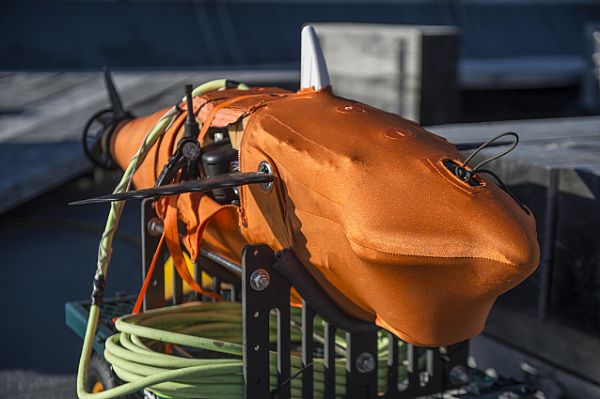 "This current project as well as all of the other ones we are developing at the CRIC is of great importance because this is our way of cultivating and encouraging the ideas and brainpower of junior seafarers. Now is the perfect time for a young Sailor to voice his idea so that it could be heard, " said Capt. Jim Loper, department head for Concepts and Innovation, NWDC.
The CRIC was founded back in 2012 in order to provide junior leaders with the opportunity to identify and develop new technologies that would help the Navy conquer their pressing challenges and employ them in the fleet as quickly as possible.
"We believe that our people have to be creative, we want them to dream, dream big and come up with innovative ideas that they can translate into reality. We want to see more projects like this because this is the engine that will drive the Navy forward throughout the 21st century," said Loper.
Source&Images: USNavy