A man referred to simply as Gav sent his postcards with a little help from the café staff
Among the letters he sent to his family and friends, there were 8 similar ones addressed to women
Each one of them was signed off with an expression of love and desire
An Australian naval officer has seemingly decided to take up the challenge of having a girlfriend at every port.
A young man who in the spring was in Auckland for a couple of days, wrote postcards and love notes to women all around the world.
The man identified only as Gav is believed to be in his early to mid-twenties, at least according to the staff of a café he visited regularly while staying in the city.
He was a sailor on the Australian Navy ship the HMAS Choules, a vessel that was once known as the Largs Bay during the time it served as part of the Royal Fleet Auxillary.
"When his ship was about to leave he would come up to us and kindly ask 'Excuse me, can you please mail this for me as a favor, thank you'," said the owner of the café, Mr. Ljunggren.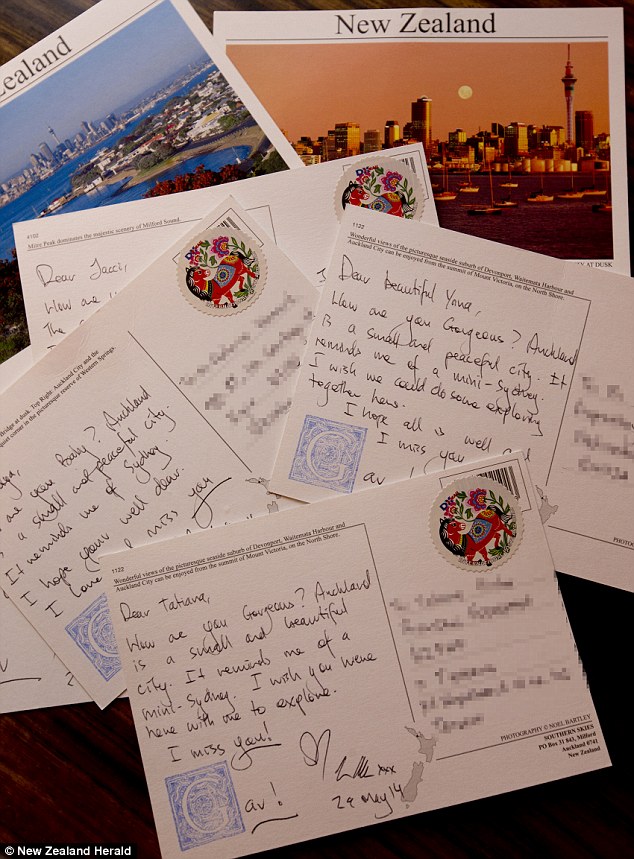 The staff naturally could not resist to sneak in a quick peek of the postcards. What they found was both shocking and a little amusing to say the least – amongst the letters to family and friends, they found eight notes that looked like love letters.
Women from Latvia, the Ukraine, Russia and Germany were all being written to with quite the similar signoffs, ending with the seafarer's confessions of love and passion.
A lot of the notes finished off with 'I miss you', 'I love you' and a short description of Auckland as a 'small and peaceful city' which kind of reminds him of Sydney.
In a postcard that was addressed to Yana for example, Gav writes 'I wish the both of us could do some exploring here' while in another one addressed to Tatiana he writes a similar line with some slight changes 'I wish we were here together to explore"
He could rest assured though because the postcards were sent to each and every one of the eight special ladies.
Gav's ship was at port at Princes Wharf, which is a former commercial wharf that has been developed and currently houses cruise ships.
The above-mentioned café's name is Barabra (meaning 'all good' in Swedish) and it is situated right on the water, very close to the place where the HMAS Choules was docked.
Source&Images: New Zealand Herald