Royal Boskalis Westminster N.V. (Boskalis) and KOTUG International B.V. (KOTUG) have signed a Memorandum of Understanding (MoU) according to which they are to merge their European harbour towage operations.
Both companies have agreed to form a 50/50 joint venture, combining SMIT's European harbour towage activities with those of KOTUG. This merger serves as the final step of Boskalis' plan to build upon regional partnerships for its harbor towage operations, as was done previously via Smit Lamnalco, Leppel SMIT and the most recent example being SAAM SMIT. By undergoing this joint-venture, process opportunities are bound to arise so that cost and market synergies can be achieved as well as the developing of a far more efficient capital structure.
The joint venture will include SMIT's Netherlands and Belgium harbor towage operations and KOTUG's harbor towage operations based in Germany, the Netherlands and the United Kingdom. By completing this merger a new leader of the harbor towage services will emerge in the northwestern European market. The joint venture will encompass 11 ports based in 4 different countries with a total of over 60 tugboats. According to preliminary estimates the total combined revenue will be approximately EUR 150 million and the joint venture will not only contribute to operational synergies but will also strengthen to a great degree the combined market positions.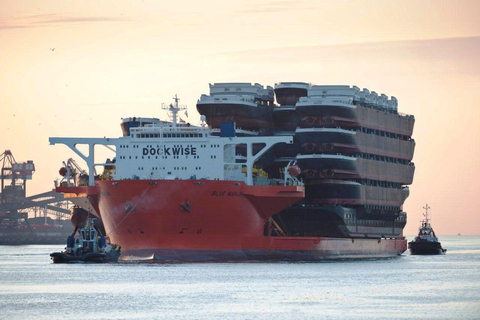 SMIT assisting the Dockwise Blue Marlin - Credits: SMIT
Boskalis' expectations are to free up close to EUR 100 million in cash from the transaction in question, mainly due to activity refinancing. The MoU will have to comply with some potential customary conditions like due diligence and regulatory approval in the countries regarded by the joint-venture, and in consultation with the works councils.