Part three of our story continues with:
Anne Bonny
Born in the Golden Age of Piracy (1650s-1730s), Anne Cormac chose the life of a pirate wife by stepping into a marriage with a minor pirate James Bonny. The couple soon moved to Bahamian island, known as the Pirates Republic. But unhappy life together let them to a fast divorce.
And then Anne started a new life with Calico Jack Rackham as his lover and first assistant on his ship Revenge. But fairytale was over when in October of 1720, Anne and the entire ship's crew, along with her very good friend Mary Read were captured by the English forces. Till the very end Anne blamed Rackham on their capture. As for him, there are written proofs for being sentenced to death by hanging. But for Anne's fate there are only speculations. Some says that her execution was postponed due to her pregnancy and so her father had the time to buy her freedom later.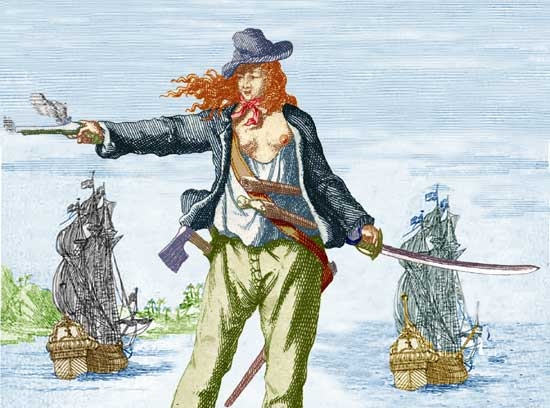 Colored image of Anne Bonney
Mary Read
Mary Read was a sea captain's widow bastard daughter. She used to be dressed as her late elder brother for years, so her mother could take money from his paternal grandmother. The cross-dressing story of Mary continued as she joined the British army under the name "Mark Read" but soon was over when she fell in love with a Flemish soldier. Happiness did not last long for Mary. After the death of her partner, she decided to move to the West Indies, but her ship was conquered by pirates, who forced her to join them. Still dressed as a man, Mary became a part from Anne Bonny and Calico Jack fleet. The legend says that only the two of them new the real identity of Mary, till the moment a new member of the crew learned the truth and was claimed as Mary's new husband.
When in October 1720 Mary was captured along with Anne and Jack, she tried to escape the death sentence as she also claimed to be pregnant like Anne. This did not help her to stay alive. Only seven months later she lost her life to sever fever in prison, some speculations claim that she died during the delivery along with the infant.
Related articles:
Pirettes: the Female Mark in the World of Pirates - Part 1
Pirettes: the Female Mark in the World of Pirates - Part 2