The winter icebreaking season has officially started for the U.S. Coast Guard (USCG) in the Northeast, starting from December 15th and ending sometime in March.
OP RENEW (Operation Reliable Energy for NorthEast Winters) is a project carried out by the Coast Guard in an effort to guarantee Northeast communities the necessary security, supplies, energy and emergency resources they require during the winter. Northeastern USCG units have been in heavy preparation for Operation RENEW and they have carried out numerous training operations and prioritizing efforts. Aids to navigation are being replaced with specials ones that are designed to ride underneath ice floes so that they could remain on their location. The impact of these operations spreads far beyond the Northeast region.
During the Coast Guard's 2014-2015 winter ice breaking season a majority of ice breaking operations will be carried-out due to reasons mentioned below:
To carry out security operations with ports, waterways and coastal security missions
To help make sure no lives are lost on the water and ashore when impacted by ice
To provide urgent response to vessels that are impacted by the ice
To provide support to communities that are in need of fuel, food and medical supplies
To help in the preventing or easing of flood conditions
To comply with the reasonable demands of commerce to facilitate navigation on frozen, navigable waterways
Around 75% of the total heating oil that is used in the country is delivered through New England, New York and New Jersey. Approximately 90% of it is delivered via barges through ports that fall under USCG's protection.
On average 300 vessels pass through the Hudson River during the winter months, amounting to over 10 million barrels of petroleum products, transported to Northeast communities.
The USCG facilitated the transportation of approximately 7.96 million petroleum product barrels and around 297, 000 tons of dry bulk products in the Northeast, which in total were close to $2 billion.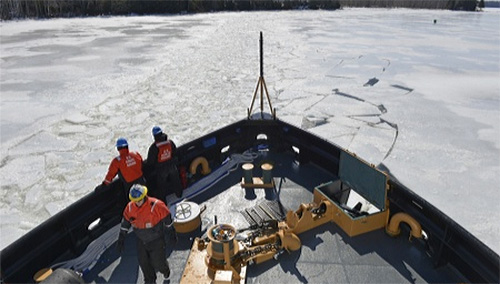 The 2014 winter season ice conditions ranged from moderate to severe and it was by far the roughest ice season since the one back in 2004. Ice formation began in the middle of December on the Hudson, Kennebec and Penobscot Rivers and continued throughout the whole winter season with just a couple of short-lived warm periods, and managed to stick it out through early April. The ice thickness ranged from 4-30+" through 1st District and massive ice breaking efforts were required in all fresh/ brackish waterways in order for them to stay open for commercial passenger and petroleum cargo transits. The extremely low temperatures caused salt water to freeze in a large number of waterways, a phenomenon which had not occurred in over a decade.
USCG operations are carried out to support investment security, innovation and resilience, which are the pivots of a growing economy. The USCG is responsible for a safe, efficient and navigable waterway system which supports domestic commerce, international trade and national defense.
Source&Images: USCG