When taking into consideration the tight schedules, modern technology and communications of today we could easily look at life on the sea strictly as a business, but this is not the case for Captain Gerhard Anthony Ijssel de Schepper – for him it's a natural calling.
He is a mariner's son and like one he is still able to discover and cherish the romance of the sea and just like his colleague, Captain Atul Baijal, he is thrilled to take on the challenges that come along with being the Captain of one of Maersk Line's most important class of ships – the WAFMAX.
The WAFMAX (West Africa Max) vessels have a unique design which makes them ideal for the West African market. They are 250 metres long with a draught of 13.5 metres, which is the maximum allowed size by ports in West Africa. The WAFMAX provide a fair share of flexibility as they are equipped with cranes on board and don't need standing ones in order to service ports.
Captain Gerhard has been a captain for over a decade, so he has overseen the development of the region. 'If we look back, just 20 year ago we had no idea when we could enter the port, when we had to leave or for how long it would take to unload the cargo. Nowadays with the APM terminal in Africa and all of the local infrastructure developments that were made it is regulated more efficiently and it is far more secure' commented Captain Gerhard.
Captain Atul wasted no time to point out that the situation is still not up to par with European ports. He cited the imprecise loading at times and the effect it can have on a ship's draught.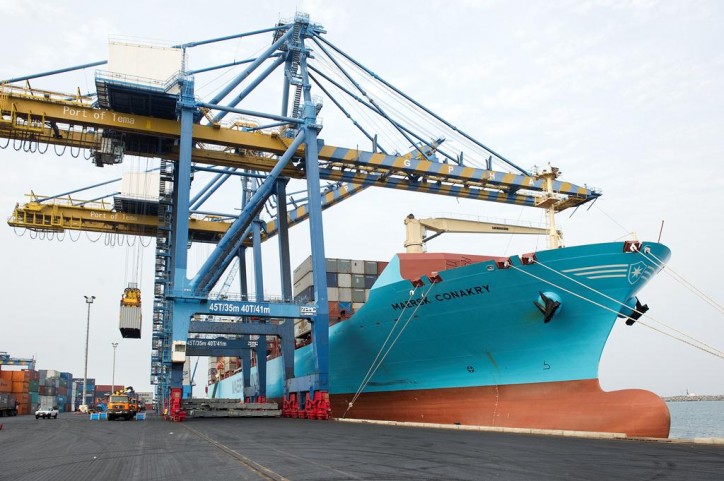 Taking into consideration the unique perspective of a frontline overseer of West African trade, even a persistent optimist like Captain Gerhard can't ignore mentioning the discrepancies that are present regarding import and export volume. 'The region used to export great amounts of coffee, cacao and cotton, but nowadays there is not much outbound cargo' says Captain Gerhard. After a quick moment of reflection he added that given Nigeria's oil production an increase in exports is bound to happen.
Captain Atul mentioned that there is quite the list of factors one must consider when working in West Africa - piracy spreading from east to west, Ebola and stowaways driven by socio-economics among a few others are things all WAFMAX captains must contend with.
Being the eternal optimist that he is, Captain Gerhard finishes with:
"I kind of like it. It keeps your mind sharp, the adrenaline is always there and there's definitely not a single dull moment. Every day is new challenge and is like no other. I once tried to take on an office job, but I could not stay away from the sea."
Source & Images: maersklinesocial