Ever since the explosion of the Deepwater Horizon drilling rig back in 2010, Annette Engel has been traveling along the coastline both by boat and foot so that she could take samples and study the effects of oil on the coastal ecosystems.
Еngel, who is an associate professor specialized in earth and planetary sciences, and her team of researchers have discovered many new facts regarding bacterial diversity and oil degradation processes—and now thanks to a new grant, they can continue their work.
Thanks to a collaboration with the Coastal Waters Consortium (led by the Louisiana Universities Marine Consortium, LUMCON), that was funded by the Gulf of Mexico Research Initiative, Engel and her team can now receive funding amounting to $849,000 over the period of the following three years. This is the second instance in which funds have been given by GoMRI to LUMCON and other consortia. GoMRI is a ten-year research initiative that was founded in 2010 and was funded with $ 500 million by BP.
During these past three years, Еngel and her team managed to discover fundamental changes regarding the types and structure of bacterial communities that are typically associated with oil and carbon degradation. The above-mentioned changes affect the quality and quantity of oil via the removement of some compounds and the concentration of others, but they also affect the ecosystem in general. Microbial changes correlate to an increased concentration level of toxic hydrocarbon compounds for example.
The research's next stage involves the examination of microbial oil and organic matter decomposition processes, and the impact of microbial cycling of the oil on coastal food webs. Researches on the impact of oil on marsh erosion will also be conducted.
"The main objective of the CWC research is to provide a better understanding of the long-term consequences that coastal ecosystems in the Gulf suffer from oil spills." commented Engel.
The group's research will help provide guidance to local, state, and federal agencies in cleanup efforts of future cases of oil spillage. Engel and the LUMCON team are one out of a total of 12 consortia that are investigating the effects of oil, dispersed oil and dispersants on the ecosystem of the Gulf of Mexico's and public health.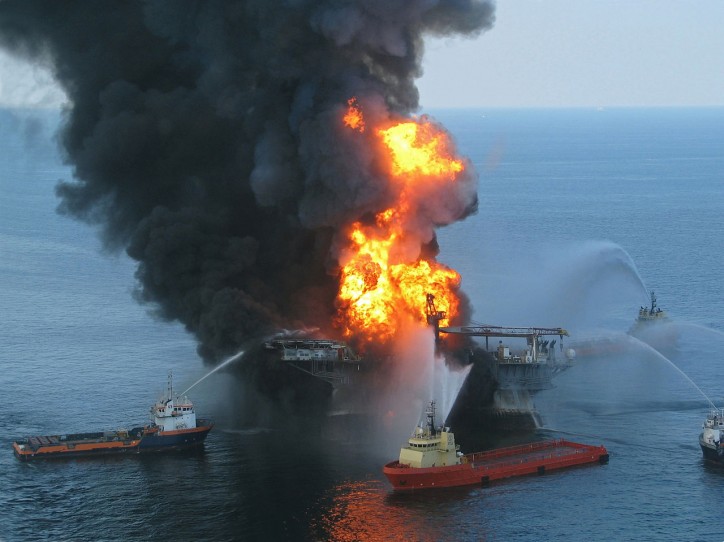 Image of the Explosion: Wikipedia