The world's largest capacity container vessel CSCL Globe held a grand maiden voyage ceremony on Thursday in Singapore, Xinhua reports.
CSCL (China Shipping Container Lines Co.Ltd), operator of the ship, was established 17 years ago and for that period the group managed to open about 400 stores in 100 countries worldwide. Тhe group presented the first of a kind vessel, which has the amazing dimensions of 400 meters length and 60 meters width. With this impressive size, the ship is higher than 10 stores and bigger than 4 football game grounds and its cargo capacity is about 19,100 containers. The incredible megastructure was built by Hyundai Heavy Industries, Republic of Korea, and is the first one of an order for five identical vessels.
The nеcessity of such kind of ships was explained by the deputy manager of CSCL, Sui Jun. He claimed the demand for mega ships came along with the need of implementing green technology and the need of being able to meet the needs of the shipping industry in time of a global economy. The new vessels will have the potential to be with 20 percent more efficent in energy consuption compared to a regular 10,000-TEU container ship.
Sui also explained the choice of the premises for the maiden voyage ceremony - Singapore. Being an important spot of the Silk Road at Sea since ancient times and nowadays a crucial transshipment hub in Southeast Asia, the port's fleet will be empowerd by a vessels like CSCL Globe and will improve drasticaly the efficiency customers are being served with.
Current position of CSCL Globe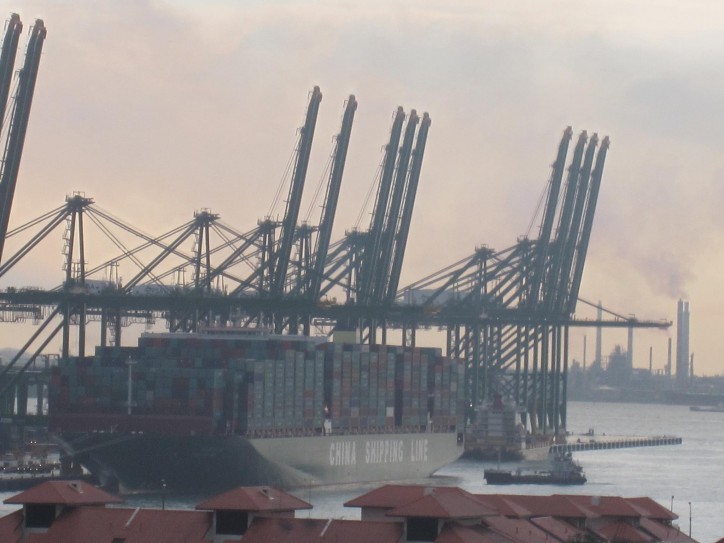 Image of CSCL Globe yesterday in Singapore was provided by Pang Soon Tan.