The Italian ferry Norman Atlantic has caught fire with 478 passengers on board. The Greek Coastguard has confirmed 150 people have already been saved, but hundreds are still trapped in the burning vessel off Greece.
The fire broke out in the lower deck of the ferry 44 nm northwest of the island of Corfu.
George Styliaras,a passenger, said for a Greek TV:
"The ship is still on fire, the floor is burning. We don't know how long we can hold on."
The rescue efforts in the area are being hampered by the bad weather conditions – wind blowing with up to 88 km (55 m) per hour.
Shipping Minister Miltiadis Varvitsiotis commented:
"We are doing everything we can to save those on board and no one, no one will be left helpless in this tough situation. It is one of the most complicated rescue operations that we have ever done."
According to a coastguard official, nearby vessels are trying to form a ring around the burning Norman Atlantic in attempt to form a to windbreak which will allow rescue boats to approach the scene.
According to Ansa, an Italian news agency, the captain reported he could no longer control the vessel and it was drifting eastwards towards the Albanian shoreline (north of the port of Vlora). The passengers, which were rescued, have already been taken ashore.
The passengers, which are still on board, were reported to have moved on the upper decks of the Norman Atlantic.
"On the lower deck, where the lifeboats are, our shoes were starting to melt from the heat … There's nowhere else for us to go. It's impossible to walk on the lower deck because of the heat, " Sofoklis Styliaras, a Greek passengers, said for a local media.
Last reported position of the burning Norman Atlantic.
Photos of the burning ferry ship Norman Atlantic off Corfu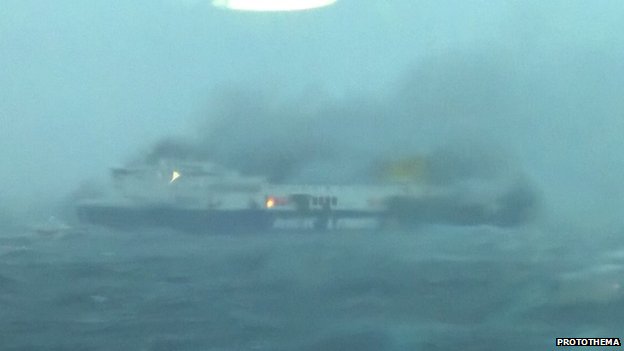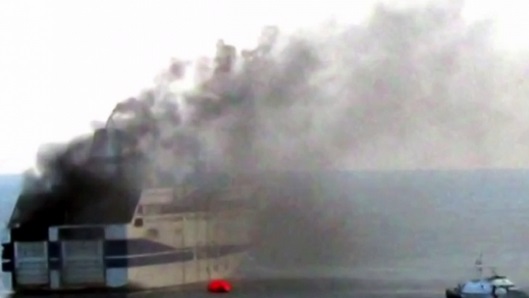 Images source: Hue Darlow