The rescue operation of the passengers onboard the Italian-flagged ferry ship Norman Atlantic continues, after the ferry caught fire with 478 people on board. Helicopters were dispatched on the scene and are now lifting the trapped passengers in pairs, taking them to a nearby rescue ship.
There are no reports of injuries and still differing accounts of the number of rescued people, after the 26,904 GT ferry ship, with 478 passengers and crew all together caught fire on its lower deck this morning.
Greek authorities announced that 131 passengers were clear of the zone of danger while an official reported 150 people had managed to get off the burning Norman Atlantic aboard a rescue vessel.
An official said 2 Italian and 2 Greek helicopters were involved in the rescue operation. According to initial information from the Greek defence ministry each transfer is taking approximately 15 minutes per helicopter, which means that the rescue of all people onboard Norman Atlantic will take at least 8 hours.
The ferry ship Norman Atlantic is still burning despite that the heavy rain that was hampering the rescue operation helped to contain the fire. One of the two tug vessels that were dispatched on the scene of the incident, managed to approach the distressed ferry in effort to extinguish the blaze, said the Greek Shipping Minister, Miltiadis Varvitsiotis.
Last reported position of the burning ferry Norman Atlantic
Technical information about Norman Atlantic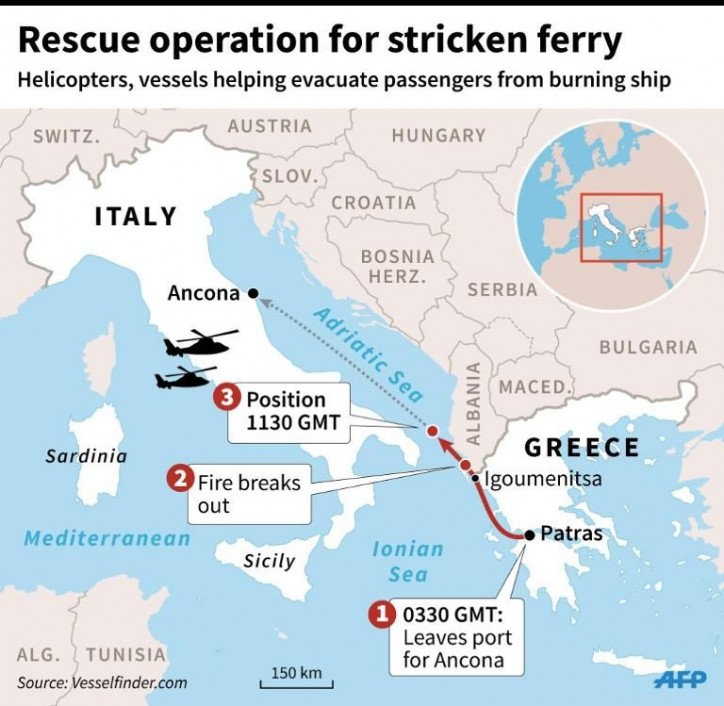 Norman Atlantic with 478 people and more than 200 vehicles, was en route to the Italian port Ancona, while sent a distress signal 44 nautical miles northwest of the Corfu island. Command of the operation was transferred to Italy after the burning ferry drifted out of Greek waters but maritime officials were coordinating closely and an Albanian coastguard ship was also taking part in the rescue operation.
Officials confirmed that 268 out of all 478 people onboard were Greek, while foreign ministry official said there were also people from other neighbouring countries: Austria, Italy, Turkey, France. Many of the passengers on Norman Atlantic appeared to be truck drivers.
Rania Fyreou, a passenger on board Norman Atlantic, said in a phone converstaion with the Greek TV channel that people panicked when the alarm went off:
We were sleeping and woken up by the alarm and the smoke. We put on warm clothes and rushed outside on the deck, she said.
Local TV station SKAI reported that some of the passengers jumped directly into the water and were later retreived by rescue vessels.
They were terrified of the blaze, Greek passenger Esftathios said.
The Greek government spokeswoman, Sophia Voultepsi stated that in the rescue operation is taking part the Greek Prime Minister Antonis Samaras and his Italian counterpart Matteo Renzi.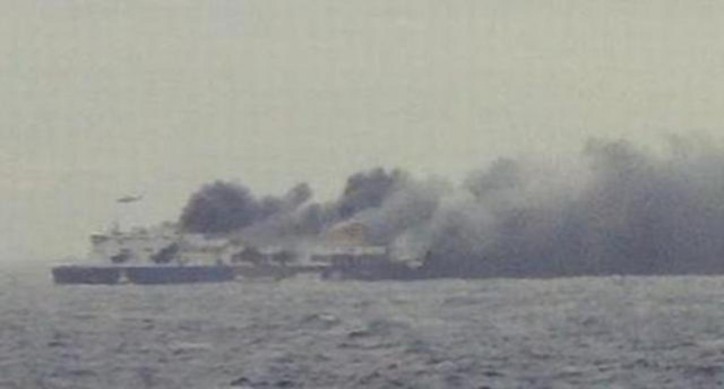 Airlift of passengers from the burning ferry Norman Atlantic
Related posts:
Ferry Norman Atlantic on fire off Corfu with almost 500 on board