The Corozal region has got permission for the building and development of a new transshipment port with the approval of the Panama Canal Board of Directors.
According to the plan, the port will be able to operate more than five million TEUs of freight. The project includes two phases for the completion of a 2,081-linear-meter –dock, a container yard, offices and storage rooms. The port's size encompasses 120ha, possessed by the Panama Canal and positioned at the canal's place of entry to the Pacific.
Construction's first stage will include the arrangement of 1,350 linear meters of docks and three Post-Panamax ships' docking places. That will enable the port's operation of approximately three million TEUs. As a comparison, currently the canal's Pacific region's capacity is five million TEUs and it anticipated to increase with one million as a result of the construction. The capacity will probably reach eight million by 2020.
According to Jorge Luis Quijano, Panama Canal Administrator, port's development demands prior attention for the region. Panama Canal's purpose to search for and advance areas, products and services incorporate that development. That increases the value for the clients and transforms the Canal into a portal that offers many services. The result of the new development will be a major rise of the inter-oceanic freight movement. The Canal will have an additional impact and impose its international position as a marine and logistic centre.
The project is still expecting the consent of the National Assembly of Panama.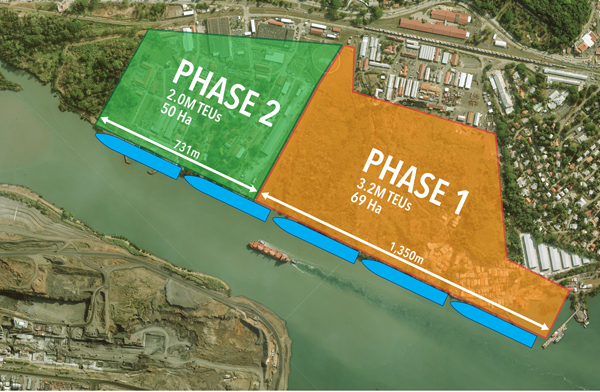 Photo: Panama Canal Authority.