The search operation regarding the sunken Cypriot-registered ship Cemfjord has officially been suspended
The search operation aimed at saving the lives of 8 missing seafarers that were aboard an upturned ship has been suspended, as confirmed by officials.
The sinking hull of the Cemfjord, a Cyprios-registered cargo ship that was carrying cement, was spotted by a passing by ferry, Hrossey, right off the north coast of Scotland.
Last reported position of Cemfjord
The search operation had engaged four lifeboats and two rescue helicopters and was co-ordinated by the Shetland Coastguard.
According to the Maritime and Coastguard Agency up to the very last moment not even a trace was found.
"The missing crewmembers' families and relatives have been notified. The coastguard will continue broadcasting messages to other ships in an effort to find any information or sightings regarding the ship. The Marine Accident Investigation Branch has been informed about the case and is going to work day and night on the investigation."
The Cemfjord was built in 1984 and in 1998 it was converted to a cement carrier.
Brise of Hamburg, vessel managers, made the following statement :
"A thorough search operation, both by air and sea, has sadly not found any trace of the missing eight crewmembers of the cement carrier Cemfjord that capsized during a storm off the north coast of Scotland. The search operation has been called off for the night. On Sunday, the naval ship HSM Somerset was tasked with searching the western area of the Pentland Firth and a fixed-wing aircraft covered the eastern part. A coastguard helicopter, as well as four lifeboats, was also deployed for the search. During the night the Coastguard tug Herakles will hold down its position where the Cemfjord presumably sank."
In August 2014, the then master of Cemfjord was sentenced to stay 35 days in prison by the Stavanger City Court for being drunk while in charge of the Cyprus-flagged vessel.
RNLI Video of the search operation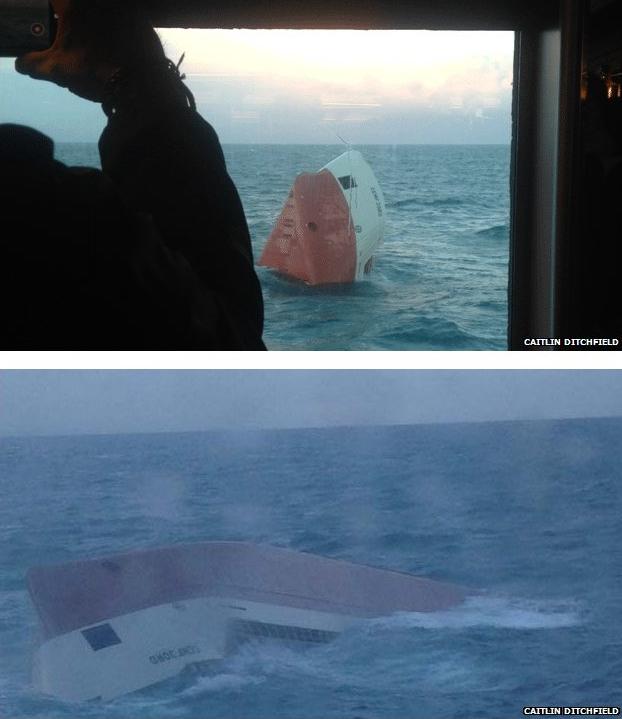 Images by Caitlin Ditchfield