The deliberately grounded car carrier Hoegh Osaka has been boarded by a team of Svitzer salvors. Their task is to assess the damage and establish a plan for salvage of the vessel.
The vehicle carrier started listing shortly after departing from Southampton on Saturday evening and was deliberately run aground in the Solent.
The Hoegh Osaka has been surrounded by a exclusion zone with a radius of 200 m and tugs will remain in the site, according to Associated British Ports (ABP) Southampton. Furthermore, in place was an air exclusion zone (1.6 km wide, 609 m high), the Maritime Coastguard Agency said.
Hoegh Osaka has on board 1,400 cars and 70 to 80 pieces of construction equipment.
According to a spokesman for Jaguar Land Rover, its vehicles are about 1,200 - retail at around £30 million. There are also 65 BMW Mini cars, retail price of £20,000, and 105 JCB machines.
"We are awaiting further information from the shipping carrier about the current status of the machines and any plans they may have for retrieval," said a spokesman for JCB.
He added that the estimated value of their machines ran into millions of pounds.
The fuel onboard Hoegh Osaka is estimated to be roughly 500 tonnes.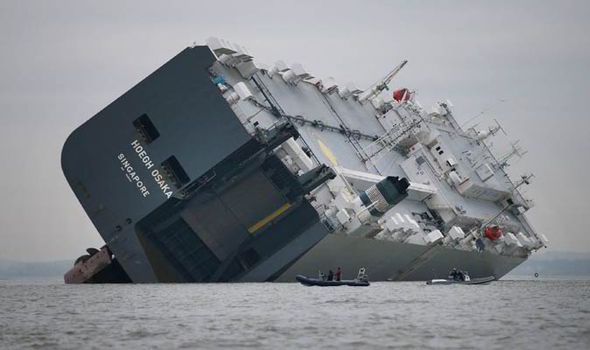 Getty Images
Related news: Video: Aerial footage of beached Hoegh Osaka