Kyocera Corporation and Century Tokyo Leasing Corporation (CTL) have made an announcement that Kyocera TCL Solar LLC, a joint venture founded by the above-mentioned companies, will design and manage a 13.4-megawatt (MW) floating solar power plant, that is to be located on the Yamakura Dam reservoir, which is under the management of the Public Enterprises Agency of Chiba Prefecture in Japan for industrial water services. If everything goes as planned the power plant will be the biggest floating solar installation in the whole world.
The Public Enterprises Agency of Chiba Prefecture, has been openly searching for companies that can build and manage a floating solar power plant at the Yamakura Dam in an effort to minimize its negative effects on the environment. Out of the companies that showed interest, Kyocera TLC Solar was chosen to take on the project, due in great part to the experience and expertise the company has in the field of utility-scale solar power plants in Japan. It's aiming to initiate the project in March 2016, after completing negotiations with related parties like Tokyo Electric Power Company.
"At the time when we started R&D for solar energy in the middle of the 70's, the technology could only suit the needs of small applications like street lamps, traffics signs and telecommunication stations in the mountain areas," said Nobuo Kitamura, senior executive officer and general manager of the Corporate Solar Energy Group at Kyocera. "Years have passed, and we have managed to make solar energy far more widely spread in society and have thus expanded our operations to residential, commercial and utility-scale solar applications. This project is quite exciting for us, as it is another step going forward by turning untapped bodies of water into solar power generation sites."
The entire project will consist of roughly 50,000 Kyocera modules that will be integrated over a water surface area with a size of 180,000m2. The plant is going to produce an estimated 15,635 megawatt hours (MWh) on an annual basis — this is a sufficient amount of electricity to power around 4,700 typical households*2 — while offsetting around 7,800 tons*3 of CO2 emissions per year.
According to the plan at hand, Kyocera TCL Solar is to build and manage the installation while Century Tokyo Leasing will finance the project. The Kyocera Group bears responsibility for the supply of the required solar modules and all additional equipment as well as construction, management and maintenance duties. The modules are going to be integrated on floating platforms that will be produced by Ciel et Terre (seated in France), which currently is also the supplier of such platforms for an ongoing floating solar power plant project in Hyogo Prefecture, that is being carried out by Kyocera TLC Solar.
By cooperating with the local companies for the construction and operation processes, as well as providing an environmental education facility to the plant in order to give environmental classes to local elementary school students, Kyocera and Century Tokyo Leasing have expressed high hopes that this project will become an integral part when regarding the development of the local community. Both of the companies advocate for solar energy as a way to achieve and maintain a low-carbon society.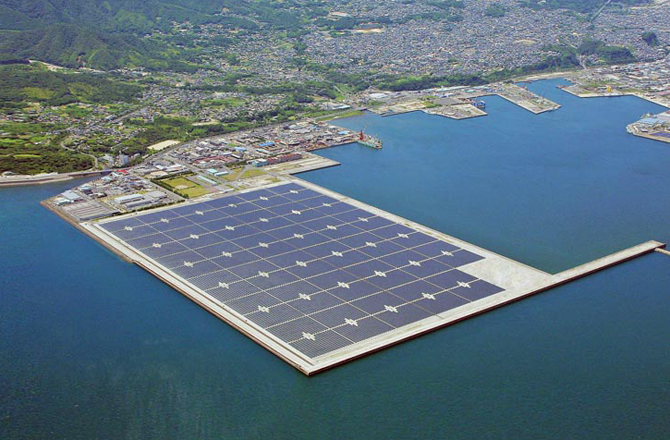 Kagoshima Nanatsujima power plant in Japan
Source & Images: Kyocera Corporation