The 19,100-TEU CSCL Pacific Ocean has been obtained by CHINA Shipping Container Line (CSCL). This is the second vessel of a total of five with the same proportions. Hyundai Heavy Industries (HHI) placed an order for them in May 2013 and their individual price was US$ 136.59 million.
The ships were initially ordered with a capacity of 18,400-TEU. Now their length is 400 metres, their width 58.6 metres and they can carry 23 rows of containers aboard. Electronically-operated slow speed construction, made by MAN-B&W (model S90ME-C9.2 in 12 cylinder model) can be found on every vessel. Its original power is 69,720 kW, slowed down to 56,800 kW to provide optimum storage consumption and lessen steam emissions.
The first vessel, delivered in November, was CSCL Globe. Now the CSCL Pacific Ocean will operate in Asia-North Europe service together with her sister as part of the collaboration between CMA CGM, CSCL and UASC. The latter constitute the Ocean Three (O3) agreement and their names are as follows: FAL 8/AEX 1/AEC1 by each carrier. From mid-January the agreement will call for the putting into practice of four Asia-North Europe routes. The vessel is responsible for one of them.
The O3 agreement allows also narrower agreements that arrange the usage of the routes by Cosco, Yang Ming, Hanjin and Evergreen. The service is delivered for the period of 11 weeks with 11 ships, among which the five new ULCS from CSCL. By 2016 it must operate with 18,000-19,000 TEU ships. That will precede the building of the six A18-class 18,800 TEU UASC with their delivery date in March or April.
In the meanwhile, UASC will transfer new A15-class 14,900-TEU units to the route (they were promoted before as A14-class 14,000-TEU ships). The new container vessels (CSCL Globe, CSCL Pacific Ocean, CSCL Atlantic Ocean, CSCL Indian Ocean and CSCL Arctic Ocean) will be in service under the Hong Kong flag by the Hong Kong affiliate of the company. By March all five ships are expected to be delivered.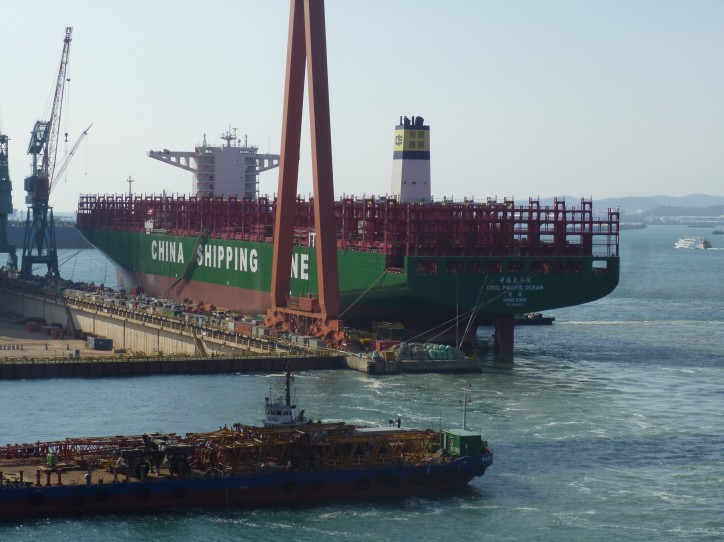 Image: Michael J Morrison