Salvage experts have given up on their £10m plans of trying to refloat the stricken Hoegh Osaka today.
Preparations for the plan had started late into the night in order to refloat the Hoegh Osaka as soon as possible but after a close examination of the vessel it was determined that it had taken too much water and that worsening weather conditions would not provide the team with enough time to carry out the operation. It probably would have been the biggest and most expensive rescue operation ever seen in the Solent.
"The salvors calculations were completed during this evening and thus we decided, judging from the data, that this type of operation will not suffice and so we won't be attempting to refloat the Hoegh Osaka tomorrow," commented a spokesman from the Maritime and Goastguard Agency.
According to the salvors calculations, more water has entered the ship than we previously thought. In this case the preparation process for the refloat of the vessel will take longer than the time allowed to us by the weather tomorrow. The alternative plan for the securing of the Hoegh Osaka will be carried out and preparations for the refloat will continue as planned when the weather allows us to do so.
It seems that the 51, 000-tonne car transport was stranded deliberately on Bramble Bank after it began listing following its departure from Southampton Docks.
The mammoth operation of refloating it – without causing an environmental disaster – depends heavily on the weather conditions, as gale force winds and heavy rain are headed for the region.
The rescue procedure will cost approximately £10m and could result in the temporary closure of one the busiest European shipping lanes.
It comes following the dramatic developments from yesterday when around noon high tides pushed the vessel to become "lightly aground" on the sandbank.
Global Maritime experts Svitzer have appointed teams to lead the operation in a co-op effort with the Maritime Coastguard Agency, delegating teams and shipping experts from Southampton.
Last night, the top specialist at Svitzer were busy generating computer models in order to make last minute estimates as a dress rehearsal for when the plan is put into motion.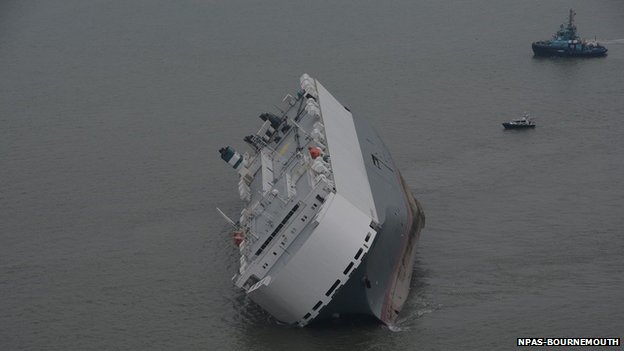 Image: Russell James
Related news:
Salvage Experts Board stranded Hoegh Osaka