The 90-metre cargo vessel Gulf Rio has run aground near the northern port of Samsun as it was caught in a storm with 10 crew members (from Ukraine, Lithuania, Georgia and Azerbaijan) on board. Having its tanks cracked, the vessel started taking in water.
The rescue operation for the 10 seafarers that are trapped on the cargo ship, has been stalled due to the present terrible weather conditions in Turkey.
The Gulf Rio was travelling back from Ukraine but it began to drift due to one of its two anchors getting broken free in the early Wednesday morning hours due to heavy seas, according to Aydin Unal, the chairman of Samsun Port.
Turkish coast guards could not reach the ship due to the high waves, thus a helicopter was deployed in order to rescue the 10 crew members.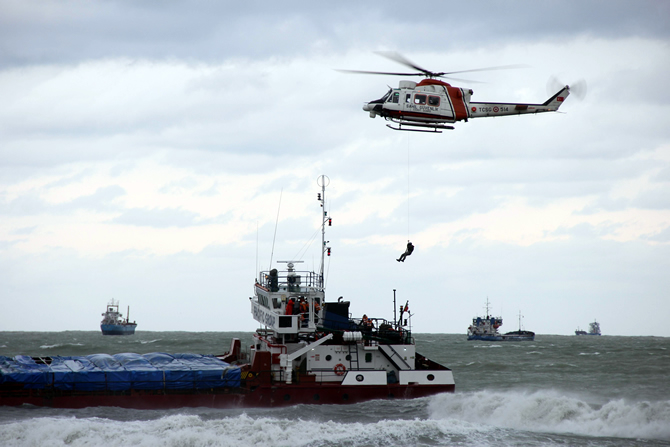 Image: IstanbulHaber
A Coast Guard boat capsized due to the severe waves leaving its three crew in the water. They were rescued by another vessel, none of them was injured.
According to Unal the situation is not critical and rescue teams have been busy since dawn trying to save the ten seafarers on board.
The ship – which is transporting a shipment of soybeans – ran ashore just as it was closing on the port in the northern coastal province of Samsun.
Unal added that rescue efforts for the crew and the cargo ship are still ongoing.
Videos from the scene