The stricken car carrier Hoegh Osаka has spent the night two miles southwest of Lee-on-the-Solent as the 51,000-tonne vessel refloated itself.
After salvage experts had abandoned a £10m rescue plan to refloat the Hoegh Osaka, the vessel unexpectedly came adrift from Bramble Bank forced by high tides and winds.
Having been "out of control" for a short period of time, the vessel was stabilised and towed by two tugs to Spitbank (Alpha Anchorage).
Hoegh Osaka, which has a cargo of 1,400 cars and 80 pieces of construction equipment, has now been rotated to180 degrees, listing at 52 degrees. Currently operations are continuing to re-right the vessel in order to move it. The Hoegh Osaka has been surrounded by a temporary exclusion zone of 300 metres. Divers are about to inpect the ship before an operation is launched to pump water from the vessel.
A spokesman for the Maritime and Coastguard Agency (MCA) commented this morning:
"The idea is just to check it for damage. There was a small hole in the vessel. They have fixed that now. It shouldn't be too long before they move it on."
According to the weather forecast, gale force winds will continue by end of the week.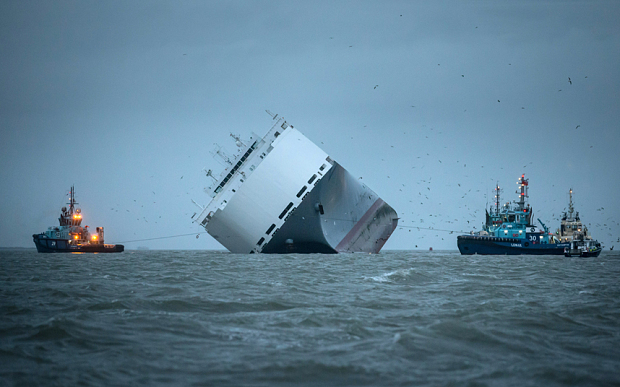 Image: Matt Cardy/Getty Images
Meanwhile, Hampshire County Council Sean Woodward expressed the councils' concerns about a potential oil spill from Hoegh Osaka.
"We are absolutely terrified of the thought of an oil spill. We had an oil spill on the Meon Shore a few years ago and it was awful. The boat is going to be moored at Hill Head and it is still on its side and we know it is leaking. I am having emergency meetings as we have to think about our contingency plan," he said.
The spokeswoman for MCA, Maggie Hill, said currently there was no evidence that an oil spill would happen.
"We have no concerns about any spill and a team of multi-agency environmentalists have been working with the salvage group and giving them advice, " she added.
Video: Hoegh Osaka being refloated