The Danish Engineering Product Award 2014 was awarded to Haldor Topsøe A/S for its innovative ECO-Jet solution. The product is basically a newly developed catalytic process which is able to reduce emission of harmful substances like soot, hydrocarbons and heavy metals that are a result of ships using bunker fuel, which is also known as fuel oil.
The worthy award is presented every year by the Danish technical journal Engineering Weekly (Ingeniøren in Danish). Its aim is to honor technological products with significant news value based on substantial technical expertise. The journal incorporated the award 15 years ago. It establishes a single winner in 5 different categories and it gives out one main award, which Topsøe won in 2014.
"Large ships that use bunker fuel produce emissions of harmful black smoke, which is a major source of air pollution on a local and global basis. Thanks to Topsøe's achievement, we now have a system that will allow us to reduce emissions of soot and heavy metals. The process itself has quite the interesting environmental perspectives as well as optimistic commercial perspectives for Topsøe," according to the statement that was given at the award ceremony by Professor Lene Lange, chairperson of the Engineering Weekly awards committee.
Topsøe's product, simply called ECO-Jet, was a cooperative effort with an Italian partner, EcoSpray, that took years to develop but now is finally here. The process itself can manage to reduce up to 95% of the soot emissions of ships that use bunker fuel and it also manages to remove other various harmful substances such as poisonous hydrocarbons and metals like vanadium, iron, nickel, sodium and silicon. If the ECO-Jet is combined with a so-called scrubber process it would also make it possible to remove sulfur from flue gases.
This is very important because according to estimates bunker fuel can contain up to 3,5% of sulfur.
According to Keld Johansen, Topsøe Senior Scientist, ships may very well sail on eco-friendly marine fuel that has a sulfur content of less than 0.1%. The problem that arises with such a scenario is that achieving a conversion rate like this is still too expensive at the moment.
"The topic regarding the use of eco-friendly fuel has been up brought up quite a few times over the years. The only issue is that the global refinery capacity is just too small and can't manage to replace bunker fuel. This leads us to the conclusion that for now we have to find another way to deal with the exhaust from bunker fuel. And thanks our catalytic process, this is now achievable," he says.
Topsøe's new emission solution is the direct result of several pilot projects. The biggest pilot of the group was the enormous cruise ship MS Queen Victoria with a capacity of accommodating over 2, 000 passengers. The ECO-Jet process was put up to the test and displayed quite the promising results under harsh, real-life conditions.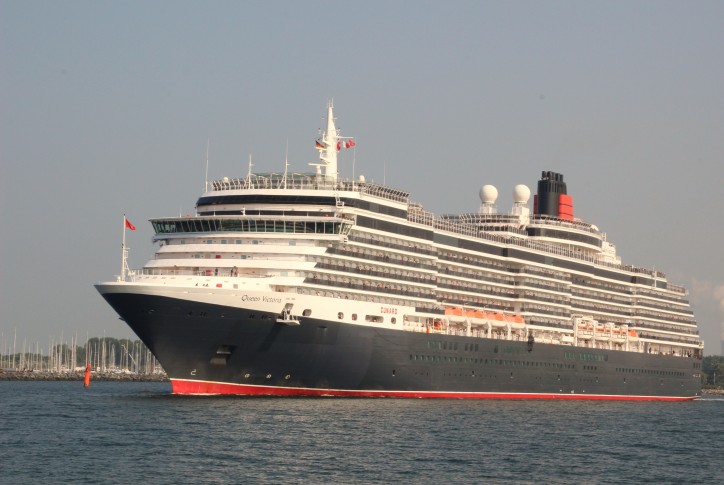 Image of Queen Victoria: Dieter Kroepelin
The pollution caused by emissions of diesel engines (including both soot and NOx) contributes to a vast majority of lung diseases and local smog generation in large cities all over the whole world. The issue is actually quite manageable on land because it is possible to use eco-friendly diesel with a low content of sulfur all the while minimizing harmful emissions with the use of a catalytic system installed in diesel trucks and buses. This applies to the US and Europe and is beginning to show promise in other parts of the globe like China and Latin America.
In conclusion Keld Johansen says that at sea and in port areas the situation is vastly different.
"Up till now authorities have been easing up on the incorporating of requirements regarding particle emissions, mainly due to the fact that is has been a major technological obstacle to develop highly efficient systems that would manage to handle the flue gases from heavy fuel oil. Fortunately, Eco-Jet has taken care of that. "