A thorough study regarding cruise ship emergencies determined that the number of cases involving major incidents like fires, engine failures, and other serious safety problems, has displayed a downward trend during the course of the past five years, despite the fact that cruise ships capacity has shown a steady increase.
The study was conducted by the outside company G.P. Wild for the Cruise Lines International Association (CLIA). It encompassed the number of incidents on cruise ships that occurred in the time period from 2009 to 2014, along with the number of fatalities and injuries to passengers and crew members that followed as a result.
The emergencies covered by the study include ship fires, technical breakdowns, person overboards, strandings/groundings, storm and rogue wave damage, collisions and sinkings. Incidents that were categorized as "significant" involved cases that had led to major injuries or deaths, as well as ones with delays longer than 24 hours. Incidents involving shorter delays and minor injuries were labeled under the "minor" category.
According to the study during the time period from 2009 to 2013, 102 significant incidents were reported, which had led to 31 passenger fatalities, 19 crew ones and 215 injuries. The data took into account the 32 casualties from the Costa Concordia shipwreck back in 2012.
The number of man overboard reports displayed the most significant decrease by being almost 2 times less than it was in 2009. Even though these incidents don't happen quite often – a mere dozen times in 2013 – the study concurred that most of the cases were either intentional or came as a direct result from reckless behavior.
On average 20 minor incidents are reported every year, as the study determined via the use of 36 publicly available sources, such as government data, trade publications and news reports. In order to be included into the research, the various incidents had to be cross-checked and proven to be valid against two official sources.
Cruise ship capacity – defined as the number of available lower berths – went up by 18.6% during the same time span.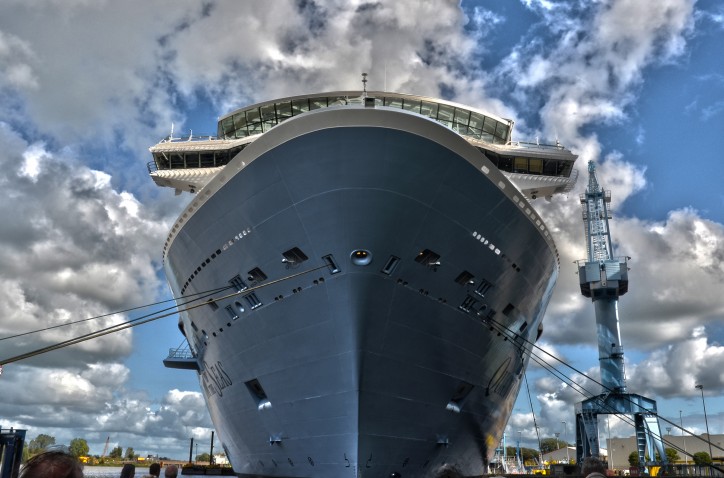 Image of Quantum of the Seas, one of the world's largest cruise ships: Manué Gerrits
The research also made a detailed comparison between the fatality rate of cruise travel and other types of transportation like air travel, travelling via train, car, motorcycle and other boating. The study determined that the fatality rate per billion passenger miles when regarding cruise lines and flights is practically about the same – mainly due to Concordia – other forms of transportation showed to be far more risky according to the data.
Mike McGarry, CLIA spokesperson, commented that the results reflected the industry's ongoing review, incorporation of the best possible practices and focus on constant improvement of their services.
"Avid cruisers know for a fact that cruising is one of the safest possible means of travelling," McGarry said. "For the people that have never been on a cruise ship and are eager to inquire about the industry's operational safety record, this research serves as a good resource from a credible third party"