One of the two tugs, holding Hoegh Osaka in place, has crashed into the stricken car carrier amid the bad weather in the area.
On Saturday afternoon, the tug was moved during high winds and collided with the Hoegh Osaka. The collision resulted in significant damage to the tug, there were no reports of injuries or pollution released.
The Maritime and Coastguard Agency (MCA) said on Sunday:
"Yesterday, weather conditions prevented any activity on the vessel other than to connect the third tug.

"Unfortunately, during the afternoon, one of the two tugs already in place moved from her position and collided with the Hoegh Osaka. There were no injuries to personnel, but the tug received some damage and it was replaced by another tug. No pollution occurred during this incident," a spokeswoman added.
A team of salvor managed to board the ship on Sunday. The state of Hoegh Osaka has not been changed – the list has not altered, no pollution has been observed. The ship remains at anchor on the Alpha Anchorage.
The stricken ship is still surrounded by an exclusion zone of 300m which is held by tugs between Cowes and Lee-on-Solent.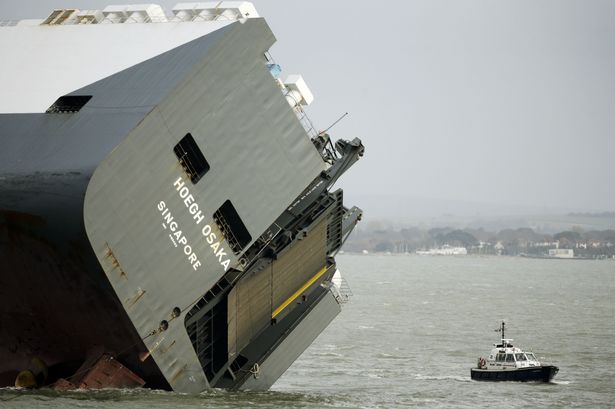 Getty Images
According to the weather forecast for the coming week, winds will still be high, so salvors are refining their plans.
"In particular, the salvors now intend to start ballasting work before pumping the 3000t of water out of the vessel," MCA said.
Having started listing shortly after departing Southampton, Hoegh Osaka was deliberately run aground on January 3. Onboard the carrier, there are 1,400 cars (1,200 JLR vehicles and 65 BMW Minis), 105 JCB machines and 500t of bunkers.
Related news:
Vessel held in deep water outside Portsmouth harbour
Hoegh Osaka Update: Salvage postponed
Salvage Experts Board stranded Hoegh Osaka
Video: Aerial footage of beached Hoegh Osaka