Italian firemen have finally been able to contain and extinguish the fire that had burst out on board of the Norman Atlantic ferry, which was towed to the port of Brindisi, Italy on January 2nd. The vessel has been already sequestered for the investigation.
On January 6th investigating officials found a lifeboat from the ship on the Albanian coast near Valona. The ferry continued to burn in port for a duration of almost two weeks till firemen finally managed to extinguish the fire yesterday and were able to enter the hull for inspection.
Earlier on Saturday, the side doors of the burned vessel were opened and officials used special machines designed for smoke absorption in order to clear its areas. According to the preliminary investigation data the temperatures inside the ferry have been finally reduced to 21 degrees, while oxygen levels have significantly increased.
The main door, which had already been opened and via which the firemen managed to initiate the absorption machines, is situated at the point where the letter "N" has been assigned by the charterer, ANEK. The head of the Brindisi Fire Department commented that:
"Given all of the latest developments, we can speed up all of the processes so that the prosecutor of Bari, along with the appointed experts, would be able to enter the Norman Atlantic this following weak."
At the same time, Italian newspaper Corriere del Mezzogiorno has come up with an article regarding the testimony of an unnamed 16-year-old Afghan migrant, he goes on to tell how he himself was able to escape from the fire but witnessed many others losing their lives.
"We were ten people at the very least," he commented for the Italian newspaper.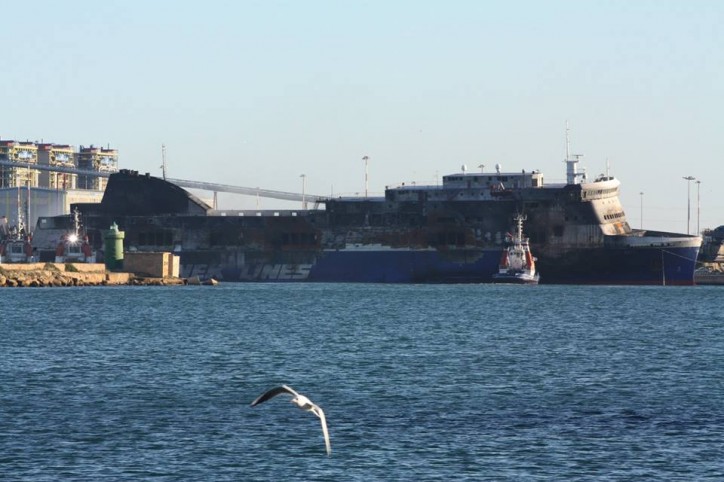 Images: Roberto Quarta
As stated above, the prosecutor of Bari who is leading the investigation will seek assistance from Greek, German and Turkish authorities to identify the corpses found via DNA testing. Nine Greek citizens are missing after the fire caught the ferry, while another three have been reported to be dead. On Monday, the relatives and close ones of those that have been reported as missing left Italy and are now anxiously waiting to receive news from Italian and Greek officials regarding the fate of their beloved ones. As of the moment, the tragedy has cost the lives of 11.
Related news:
Update: Video of Norman Atlantic ferry wreckage towed to Brindisi
Ferry Norman Atlantic on fire off Corfu with almost 500 on board
UPDATE: Airlift continues for hundreds trapped on burning ferry Norman Atlantic
UPDATE: Death toll of Norman Atlantic rises to 10, dozens 'unaccounted for'