Despite going through some rough patches during the manufacturing process, the DOC 8500 was delivered a couple of days ahead of the scheduled completion date. The entire design process along with the engineering and building aspects took just 15 months to complete. Taking into consideration the fact that additional work was added to the specifications of the contract (additional cable-laying infrastructure was installed prior to the handover) after it had been signed, these news were regarded as quite satisfying.
The project's success heavily depended on a number of factors. The level of cooperation between Van Oord and Damen was very intensive from the outset, short lines of communications between both decision makers were quite typical.
Another factor was Damen's ability to draw on the expertise of several companies within the Damen Shipyards group itself. Six Damen companies located in Romania, Ukraine and the Netherlands brought a great deal of engineering and project management related expertise. The ship was built at Damen Shipyards Galati. The opportunity, to be able to access and coordinate such a vast range of resources, grants Damen a major advantage when complex projects like the DOC 800 are put on the table.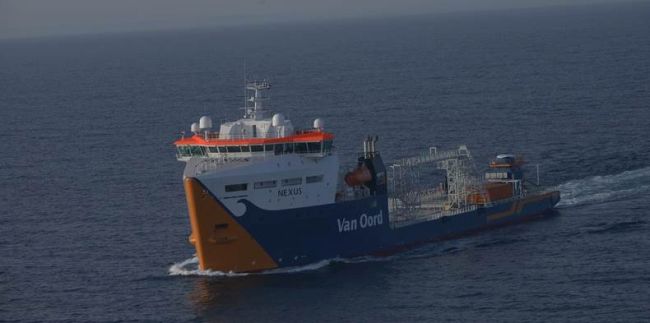 Equipment installation
The Nexus is now located at Damen Shiprepair Vlissingen, where Van Oord is busy with the constructing and installation phases of the additional cable-laying equipment.
The Damen Offshore Carrier (DOC) design concept was unveiled by Damen back in 2012 as a cost-efficient smaller heavy transport, offshore installation and ro-ro platform that can suit the needs of multiple markets. The design is quite adaptive due to its large and flush open deck, and thanks to its modular construction it can switch between roles in a quick and economical manner.
Jaap de Jong, Van Oord's Staff Director Ship Management Department, said:
"By us working close together on all aspects of this project, we have managed to construct a fit-for-purpose and economical vessel in the shortest of time periods. The Nexus is a valuable new asset to Van Oord's fleet and will be of great help to our Offshore Wind Projects business unit."
Video: Damen delivers Offshore Cable Layer to Van Oord
Source & Images: damen.com