The ban, that was imposed in order to restrict bigger vessels from passing through the centre of Venice, has been lifted.
Venice's regional court of appeal (Tribunale Amministrativo Regionale) lifted the restriction, that was imposed back in November 2014, regarding large cruise ships over 96, 000 GT – which equates to approximately 2, 260 passengers – that sail along the Giudecca Canal and St Mark's basin to the city's main cruise terminal point. The ban also limited the number of vessels over 40, 000 tons or more to just five per day.
According to the Italian publication, II Friuli Venezia Giulia, the Italian Transport Ministry has stated that it will appeal the decision to the Council of State.
Giovanni Puglisi, UNESCO's president of the Italian National Commission, commented that he was shocked by the decision and that in his opinion the public interest should take precedent over cruise ships.
The recent developments on the matter won't affect the bigger ships immediately (cruise lines conceive plans for itineraries years in advance). However, they do put great pressure towards building an alternative route to Venice. One such route, that is suggested quite often, is the Contorta-Sant'Angelo canal, it is a proposed excavation from port Marghera to Venice. An environmental impact report regarding the proposal will be issued sometime in March.
The restriction was initially imposed in order to prevent causing damage to the fragile architecture and environment of Venice, and it has managed to stir up quite the controversy. Several environmental groups have been protesting against the passing of large ships for years, while on the other hand ports and cruise industry employees have been giving their side of the story, suggesting that the ships account for millions of euros being poured on a yearly basis, into Venice's economy.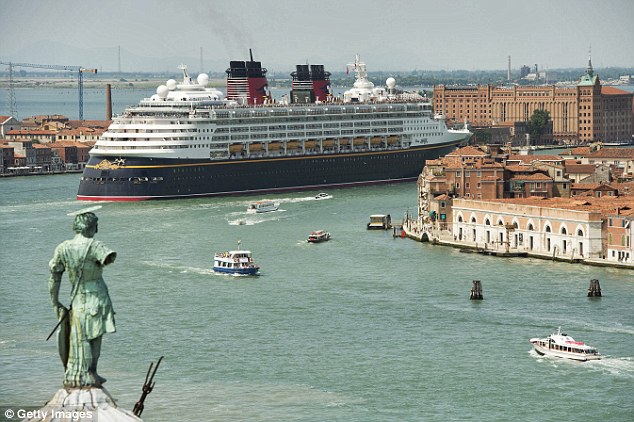 Cruise ships of 96,000 GT and over are classified as large, the figure approximately equates to Costa Cruises' Vista Class capacity for carrying 2, 260 passengers. Cruise ships that are 40,000 GT and over are classified as small, which amounts to 1, 360 passengers – for example Fred. Olsen Cruise Line's Balmoral. Smaller cruise vessels, such as P&O Cruises' Adonia have nothing to fear as they would not be affected by the restrictiom, seeing as how it weighs a mere 30,000 GT – which accounts for roughly 710 passengers.
A spokesperson for P&O Cruises commented that:
"CLIA [Cruise Lines International Association] fully acknowledges and respects the verdict and all of its member lines have decided to voluntarily stop bringing in ships that are above 96, 000 GT to Venice until there is a new alternative navigation route." He also said, "we will be happy to welcome the final decision of the Italian government, regarding the potential alternative route for large ships to Venice."