Better weather conditions in Solent will allow for two new pumps to be put integrated and, should they remain such, for the divers to carry out an inspection of the hull of damaged car carrier Hoegh Osaka.
The salvors plan on using a dedicated helicopter in order to transport the two pumps on and from the vessel. The helicopter was appointed to arrive on the scene, yesterday afternoon, according to an update from UK's Maritime and Coastguard Agency (MCA).
The tug that sustained damage in the incident, during the bad weather conditions at the weekend, has been repaired and is now again fully operational.
However, keeping in mind that all salvage activity depends to a great deal on the weather conditions, the activity on scene is quite likely to be close to none, due to the forecast being for strengthening winds that will be reaching a peak between 6:00 pm, Wednesday and 6: 00 am, Thursday. MCA added that:
"The salvors are quite certain that with the anchor in place and the three tugs connected, the strong winds will not turn out to be an issue regarding maintaining the ship's position."
Estimates show that there is up to 3000 tons of water aboard the carrier. Efforts to pump the water off began on Thursday, last week.
According to the agency, it will take up to seven days for the salvage work to be completed before the vessel could be towed back to the Port of Southampton.
The carrier self-floated at 1:55 pm on Wednesday, January 7th at high tide and was then towed to a specified holding position 2 miles east of its original grounding location, near the area known as Spitbank.
The ship is currently being held in position at anchor on the Alpha Anchorage.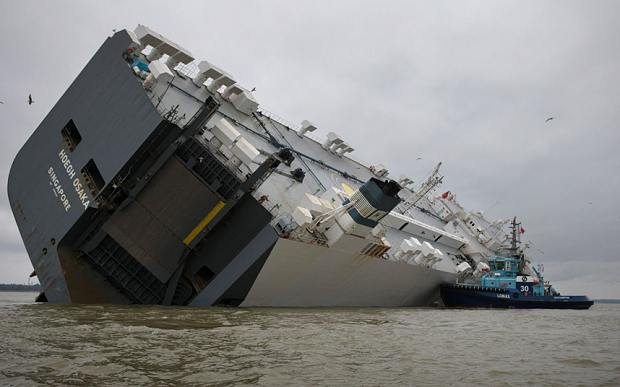 Getty Images