On Tuesday, the U.S. Navy's Surface Forces Commander advocated putting more offensive weaponry systems on a broader range of United States vessels, given the current escalating level of threats and concerns in the Asian-Pacific region.
Vice Admiral Thomas Rowden commented to a Surface Navy Association national symposium in Crystal City, Virginia, that the Navy's test firing of a Norwegian missile off a Littoral Combat Ship (LCS) last year was a major achievement regarding efforts of demonstrating that other smaller United States battleships could also be equipped with offensive weapon systems.
In his opinion, achieving this would even out the distribution of the Navy's firepower across its fleet, at a time when budgets are being cut back, while demands regarding the U.S. Naval forces are escalating.
Rowden labels this concept as "distributed lethality" and further comments that this would make sure U.S. ships are better armed and prepared to respond to threats, while they would also be able to operate independently, if a scenario in which they are isolated was to arise.
He also pointed out that further analysis and testing are required in order to fully determine the cost and timing of potential weapon changes, but added that it would probably be cheaper to upgrade the current weapon systems than buy new ones. Unmanned systems could also contribute a great deal to the expansion of naval capabilities, according to him.
He went on to further comment that, "The Navy could not only buy weapons and various sensors, but it could also incorporate new tactics regarding the use of its ships to keep any potential adversaries on their toes. U.S. allies like South Korea, Japan and Australia could also rip the benefits of adding offensive weaponry systems to their battleships."
Rowden refused to give any comments regarding the prospect of ordering the Naval Strike Missile, that is developed by Norway's Kongsberg Gruppen, for use aboard U.S. Navy vessels, but he did say the missile's test firing on the USS Coronado, one of the two in total LCS ships, constructed by Australia's Austal, was a huge success.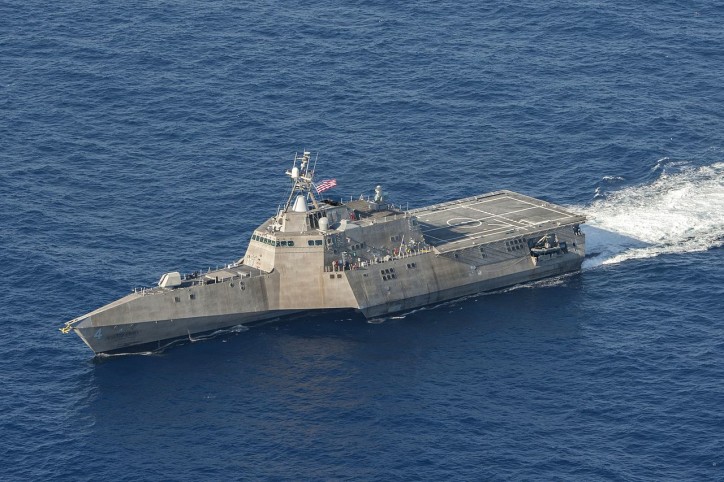 Image of USS Coronado: US Navy
Lockheed Martin Corp manufactures the other LCS ship.
According to Rowden he took the decision of testing the above-mentioned missile, which possesses a range of over 120 miles (200km), on LCS after a paper-based "war game" back in March 2014. The addition of missile systems to LCS ships complicated to a great degree the targeting plans of adversaries, he added. He concluded by saying:
"The Navy should also explore the possibility of adding similar capabilities to amphibious vessels and others, potentially including logistics vessels that carry supplies to other battleships. The question at hand is can we do it on other ships, and the answers is definitely yes, and in my opinion we should."