Rolls-Royce has been chosen by Alaska Marine Highway System (AMHS) and the Vigor Industrial shipbuilder to supply it with an extremely productive propulsion system suitable for the two Alaska Class ferries.
The latter will be constructed by Vigor Shipyards in Alaska (Ketchikan). The length of each ferry will be 280 feet. They will accommodate up to 300 travelers and hold more than 50 standard carrires. They will give special prominence to forward and read doors for faster charging and discharging and completely surrounding car platforms. They will also present a number of Rolls-Royce technology as for example reduction gearboxes, tunnel jet engines and steering appliances. A propulsion system by Rolls-Royce Promas incorporates pitch propellers and rudders that can be controlled. It will improve fuel effectiveness and heighten maneuverability.
According to Rolls-Royce SVP Commercial Marine representative for North America Tor-Gunnar Hovig, the company is pleased to cooperate with both Vigor Shipyards and Alaska Marine Highway System to assure a propulsion system that is firm and fuel efficient. It will be part of the new ferries that will be an advantage to Alaska's state and population for many years in the future. The agreement also provokes excitement with the fact that it presents the first ferry administrator in the region to operate with Promas integrated propeller and rudder system. The system betters the propulsion indicators through the process of making the efficiency higher. Thus it consumes less fuel in comparison with traditional operating systems. Currently more than 60 new-builds promote Promas and nearly 40 have already been harmonized with the system.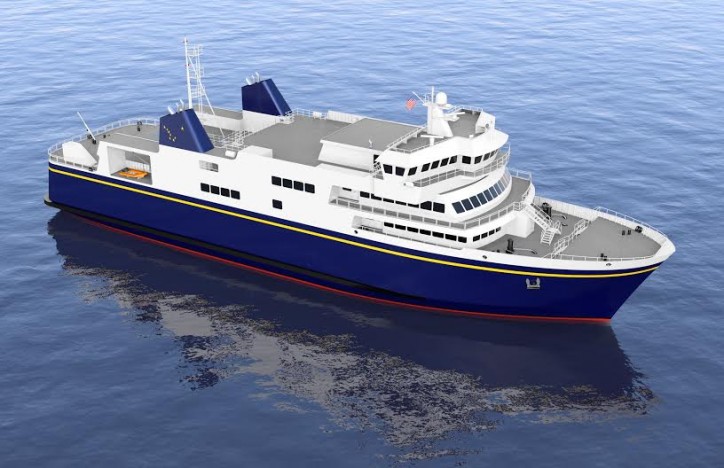 New Alaska-class ferry illustration courtesy of Rolls-Royce