The Pakistan Ship Breakers Association (PSBA) has accepted on quite a high note the 15% tax regarding regulatory duty on the import of all steel billets, steel bars and wire rods.
Ever since 2014, steel billets, wire rods and steel bars have been taking over the Pakistan Market via dumping from abroad. This resulted in the local industry becoming unviable and thus one of the local steel manufacturing sectors i.e. wire rod industry has been completely shut down.
Dewan Rizwan Farooqi Chairman PSBA commented,:
"From 2010 till now, the ship breaking industry has managed to provide 1.2 million tonnes of steel raw material each and every year to the re-rolling, wire rod and steel melting industry. The ship breaking industry has managed though massive capital investments to enhance its ability to take care of Pakisan's downstream industries by boosting its yearly capacity from a respectful 150, 000 tonnes in 2007 to an astounding 1.2 million tonnes in 2010. This has enabled it to produce the much needed, by the Balochistan province and the government, revenue, hovering somewhere around the field of Rs 11 billion per year."
According to industry analysts and experts, the imposition of the above-mentioned Regulatory Duty tax comes at a pivotal time, seeing as how the steel products, that are being imported into the country via a vast number of trade agreements and subsidies, were cleared with means of manipulation and misdeclaration and are responsible for creating a difference amounting to over 20% in the cost between locally produced goods, while at the same time the cost decrease has had absolutely no effect whatsoever on the local consumers and the imports lobby has been continuously reaping the multiple benefits i.e. profits, all the while the local industry has been caught up in a stalemate situation.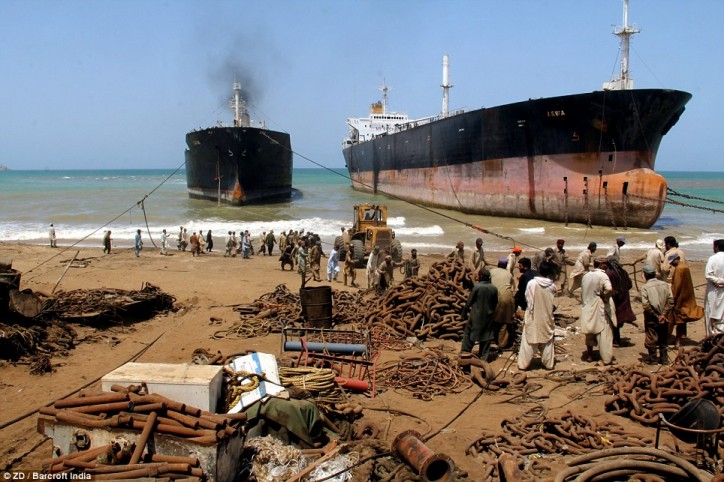 Gadani, Pakistan
By imposing the above-mentioned tax, the government will provide much needed help in achieving some sort of stability regarding the local market and curbing revenue drain while managing to induce means necessary for a level playing field for the local steel industry.
The Pakistani ship breaking sector accounts for the country's biggest steel raw material supplier regarding the re-rolling and wire rod industry, and also accounts for investments in the amount of over Rs 20 billion in Balochistan during the past 5 years, besides the highest revenue contributor from the steel sector in Balochistan. It is one of the biggest employers in the otherwise rudimentary province of Balochistan, providing job opportunities to thousands of people.