As of this morning, rescue teams have been considering taking advantage of an opportunity to make use of the vital weather window that has opened up in order to bring the large Hoegh Osaka car carrier back into port in Southampton sometime this afternoon.
They are planning to exploit the favorable weather and tide situation this afternoon or tomorrow morning, which will give them enough time to move the marooned vessel from its current position off Lee-on-the-Solent.
Nothing is certain as of yet due to a possibility of severe weather sweeping in during the coming days. If a scenario involving bad weather conditions is to occur, the mission of transporting the giant vessel could be postponed until Sunday or even till the following week.
It comes following crews from Svitzer salvages easing the enormous 51, 000-tonne ship almost upright, as last night it was leaning at less than 25 degrees, which is almost half of its original list of 52 degrees when it was deliberately ran aground 19 days ago.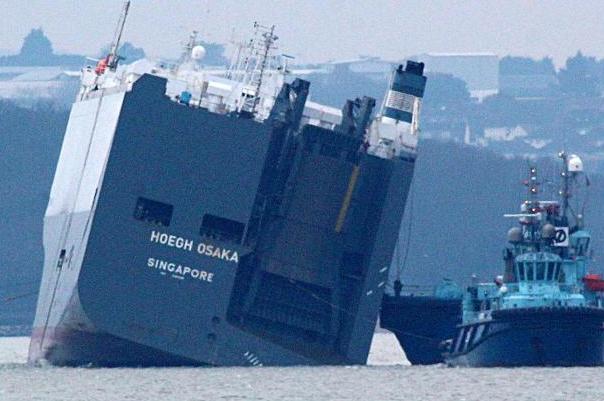 Image: DailyEcho
After being at a press conference at the Maritime and Coastguard Agency (MCA) head offices located in Southampton, the Secretary of State's Representative for Maritime Salvage and Intervention, Hugh Shaw, commented:
"This case is by far the biggest incident we have ever had to cope with, but the support efforts having been nothing short of top class and a properly rehearsed action plan has been developed within the Port of Southampton and Portsmouth."
He also went further on to comment that the vessel's list was expected to drop last night to 15 degrees but it is necessary to be below five degrees for it to be suitable to tow her back into port, along with winds having to be below 25-30 knots.