VT Halter Marine laid the keel for El Coqui, which is the first out of the two LNG-powered combination container roll-on/ roll-off vessels that were ordered by long-time client Crowley Maritime Corp. Yesterday, the official ceremony was carried out at the Pascagoula yard.
Tradition holds that the keel laying itself marks the ceremonial beginning of a ship's building process, due to the fact that it actually forms the backbone of the vessel and is also the very first part of the ship to be build.
"This keel laying is a major accomplishment regarding our building schedule for the Crowley Commitment-Class program," CEO Bill Skinner commented.

"We are quite pleased that construction is underway for this, very important to us, ship", he further said. "We have nothing but gratitude for our valued client, Crowley, for the confidence that they have displayed, time and time again, in VT Halter Marine."
The brand new Commitment-class vessel has been designed so that it could maximize the carrying process for 102-inch-wide containers, which practically offer the most cubic capacity when compared to other container models.
The ship has a length of 720 feet and an approximate deadweight capacity in the amount of 26, 500 metric tons. Its cargo capacity is estimated to be roughly 2, 400 TEUs, while also having additional space for close to 400 vehicles.
The main propulsion and auxiliary engine systems will use eco-friendly LNG fuel, which according to leaders will set a new standard when regarding responsible shipping.
The two carriers will be constructed at the Pascagoula facility. They are scheduled for delivery for mid- and late- 2017.
Wartsila Ship Design has provided the ship design in conjunction with Crowley subsidiary Jensen Maritime.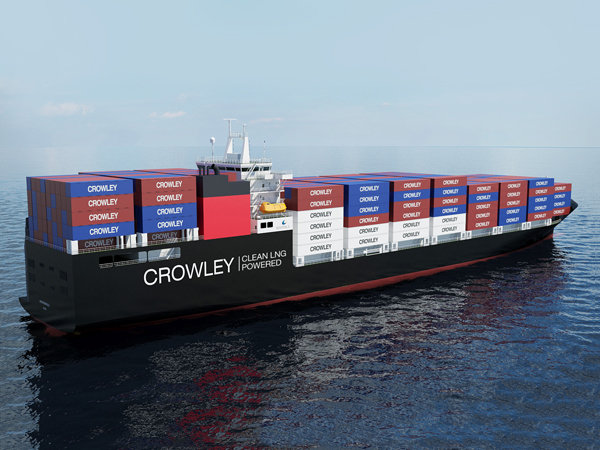 Images: Crowley