The Royal Malaysian Navy (RMN) has initiated important talks with neighbouring countries in regard to establishing a joint patrol in order to try and handle the sea robbery issue in the region.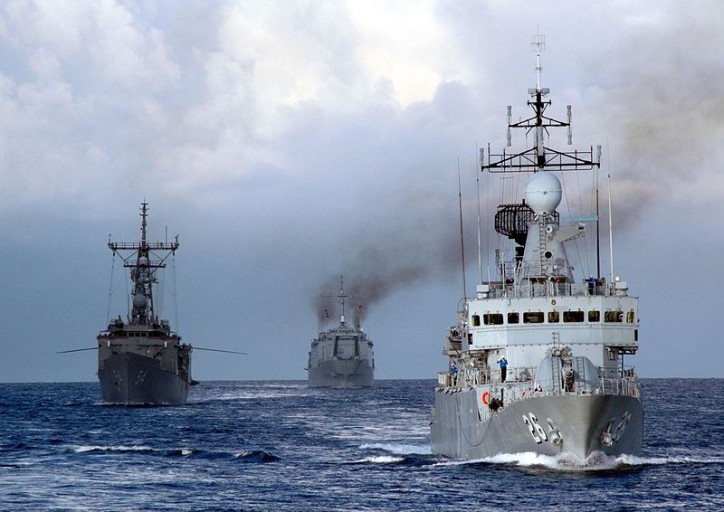 The U.S. and RMN vessels KD Lekir (F 26), USS Ford (FFG 54) and KD Sri Inderapura (L 1505) sail in formation during CARAT 2008. U.S. Navy photo by Mass Communication Specialist 1st Class Brian Brannon
Admiral Abdul Aziz Jaafar, chief of the RMN commented that the state navy will most likely perform a patrol co-op with some regional navies like those of Indonesia, Singapore, Thailand and Vietnam in order to take care of the sea robbers situation. The co-ordinated patrol effort will probably be kicked off during the Langkawi International Maritime and Aerospace Exhibition (LIMA) that is to be held in March of this year.
Also, the RMN will join forces with the Malaysian Maritime Enforcement Agency (MMEA) in order to eradicate sea robbery and simply for investigation purposes. Adm Jaafar said that he believes a syndicate to be involved in the recent series of attempted pirate robberies that occurred along the southeast tip of the Johor coastline in 2014.
He also added that the syndicate has a tendency to target vessels carrying petrol and diesel for fuel siphoning. Along with that it also robs commercial ships that have anchored along the border of Johor and Singaporean waters.
For now, the MMEA has arrested nine individuals that were supposedly involved in the recent ship boarding incident of the MT Sun Birdie tanker. Officials believe that the nine individuals took control of the tanker for fuel siphoning operation of aproximately 700 tonnes of marine fuel with a total worth of MYR1M ($280,600).